Monday, November 26th, 2007
Deprecated
: preg_replace(): The /e modifier is deprecated, use preg_replace_callback instead in
/www/htdocs/w0081e40/wp-includes/formatting.php
on line
75
Wednesday, May 30th, 2007
The maze here seems to amaze everyone. (Well, I guess the more likely explanation is that Amer has friends staying at the house when it's not being rented to anyone.) During the night someone was hammering at my door, calling "Ahmad?!!" repeatedly. I resisted the temptation to shout back "No, Melantrys. Will you push off, you loud annoying person, you?!" and turned over in bed instead.
Apart from that I had a lovely night. Finally I had gotten used to the noise level outside. Good.
Hence I crawled out of bed at a sensible time of around 11am. That morning a mild drizzle was falling outside - the only rain I witnessed during the course of my holiday there.
By the time I had finished washing a few clothes the rain had already stopped again, so I could take 'em up to the roof to dry.
Around noon I decided to face my inner demons and fry some lunch. I started off small by cleaning and cutting some veggies.
While I was doing that Caesar called me from work to check that everything was all right. Yes, of course it was.
I finished chopping the veggies, tore off a piece of old newspaper and twirled it into a taper. It doesn't really help one to overcome one's fear of gas if one has to light said gas with - basically - a piece of burning paper. I turned on the gas and lit it anyway. I am so proud of myself.
(Please note the hole with the burn mark above it where one of the gas switches should have been and the way the stove swayed when I turned on the gas as something was obviously wrong with its rear right leg.)
Something made me check the tap in the corridor again. It coughed and wheezed and spit, then it was working again. Ghosts.
Caesar called me after work and told me he'd be here in 30 minutes. So when someone knocked - twice - half an hour later I was wondering why he didn't give my phone a ring as well, but went to open the door.
It was a boy, maybe 6 years old, who looked at me with big eyes while I told him in English that he must have the wrong house. "Baba?" (daddy) he asked, and I shook my head, pointing at me and then upstairs. Reluctantly he turned to go and didn't yet see the man hurrying towards him from the left…


(Baba = Ahmad???)
The next knocker thankfully was indeed Caesar. And he let my phone ring before knocking.
When he had cooled down a bit in my air conditioned living-room (sitting in one room with me, without me ever having breastfed him, oh! the scandal!

) we went and bought some salt and black pepper (which I'd definitely need now that I had overcome my fear of using the stove) and dishwashing liquid.
A man with two kids came into the store, the eldest of whom was the boy who had been knocking at my door. I'd say he recognized me as well, for he kept hiding behind daddy from me.
Then we went to another store and bought a few bottles of coke and brought it all back to the flat. Fascinating, yeah, I know, that's why I'm telling you.
We wandered about some more, and after having received an SMS from my sister, complaining about the father calling her cos he got no reply from me in the morning, we made the long overdue purchase of a 1000-unit phone card.
In a handy square we sat down on a bench to recharge my phone's account and send off some SMSs, then moved on.
To the embarrassment of my guide we kept getting lost, so he decided to take a taxi to Bab Touma.
They either wanted to charge a ridiculously high amount of money or wouldn't go there at all. We stayed lost for a while longer until a police officer was kind enough to point us in the right direction. It had been just around the corner, basically….
We ambled about a bit, admired the alcohol on sale and had a dinner of pizza and shwarma respectively.
Caesar took me to the square at which we had gotten off the taxi on the night of my arrival to see if I'd recognize it. Evil man, testing a senile old woman that way…
But I remembered it all right.
As my poor host had to work the next day we returned to the flat rather early'ish.
By the way, on one of our many rounds across the suq someone said "nice tattoo" in Arabic in passing. *grins manically*
The ants in my flat turned out to be a weird migrating bunch. They mostly stayed out of my bedroom that day and populated the living-room and kitchen instead. Did they somehow take notice of the large number of them that I had squashed? Did they hear me mention ant poison on the phone the other night? Or were they just weird??
Either way, the sofa had stayed ants free (except for a few dead ones, *cough, cough*), but I didn't trust that state of affairs enough to put my stuff back on yet.
Furthermore I was starting to think that the bed was killing my back…
.
Thursday, May 31st, 2007
Got up, showered, dressed.
Cut up two more potatoes, the last zucchini and an onion and bravely lit the stove and heated up some oil. Although I singed my overly heat sensitive hands a bit, I equally as bravely kept stirring the new veggies and the leftovers I had added a while later until they were partially crisp. Now I remembered what I also hate about cooking with gas: the heat.
I also added some of the newly-bought salt and pepper. It's amazing what this most primitive spice mix can do to the flavour of a meal you have been eating without any spices a day earlier. Tasted like the food of the gods…
While I was eating Caesar called to check on me. I padded into the kitchen to escape the noisy air conditioning and saw a piece of zucchini peel I must have dropped. It was covered in ants.
When I had hung up I quickly poured some poison on them and on the kitchen main trail and finished eating.
After doing a bit of laundry, the washing-up and spreading some poison in the living-room, I sat pondering the idea of venturing out into the warren outside on my own. Asking my travel diary to wish me luck, I set out…
I managed to find the suq which made me hope I'd also be able to backtrack later on. This was when I found out the suq was larger than I first thought, as I explored the streets branching off on the right and left.
At around teatime I was sitting on a bench (in the shade, yay) in a square in front of the Agricultural Cooperative Bank, which, incidentally, was the same square we had stopped at the day before to recharge my phone credits. I was quite confident I'd be able to find my way back to the flat.
I decided I had to take back what I had said to Caesar earlier. If a half-naked tourist lady is walking the streets alone the vendors are more persistent and she does attract the odd stare.
Apart from that I was feeling dizzy and short of breath. Ozone or just a mix of rather high temperature and a high humidity level? Guess I'll never know. (Although my guess'd be on the ozone as that is my usual reaction to it. You may call me the Walking Ozone-o-Meter.

)
A girl in hijab on the next bench flashed me a friendly smile while I was looking up pondering what next to write.


I discovered that I was running out of book, so I decided to use both sides of the pages after all, even though the book consisted of some rather cheap see-through paper. (Don't buy at our store, even if the note-book cover looks cool, lol.)
When I was done writing I continued my stroll.
I spent ages getting flat feet and working up an honest sweat walking the suq and its side alleys. I even purchased something. A sponge with a rough side to scrub my cooking pot. For… ta-da-da-dum… 5 SP.1
I SMSed some with my friend C. back home and with Caesar. After telling the latter that I was heading home I saw a street I had not walked through yet (If you are about to leave the suq in the direction of the Omayyad Mosque it's the last side alley to the right.), so I walked into it of course. A guy in an olive-green shirt looked at me and stopped at a stall and let me pass. A while later I noticed he was walking half behind me, which was kind of annoying, so I slowed and let him pass in turn. Shortly after that the main merchandise seemed to have been reduced to old ladies' panties and huge ugly bras so I turned back and left the suq. When I had crossed the square and was talking a left turn into the alley behind the mosque Green Shirt was suddenly beside me, asking "How are you?" As this meant he must have been dogging my steps for between 10 and 15 minutes by then, I was feeling anything but polite and simply walked on, ignoring him. Unfortunately he kept pace, and it was dawning on me that I should not go home if I didn't want him to see where I was staying. After a few more paces and some desperate thinking I stopped in my tracks and headed back to the highly frequented square. Right enough, he turned as well…
At one of the Roman arches a couple of men were sitting, two of them in what looked like some kind of uniform. I half-approached them, stopped, crossed my arms and glowered at Green Shirt who was keeping some distance now and staying on the street right in front of the mosque. Either he didn't quite get the message I was trying to send or he was simply reluctant to leave as he kept hovering. So I approached the guys. Like so many people there they spoke no English. After having verified that I spoke no Arabic and that the gibberish I was urgently addressing them in was English they referred me to the bearded old man sitting in the hintermost corner of the arch. I explained my problem to him, he said something the the young men, and they all shuffled their bums aside to make room for me to sit with them for a while. As my exchange with the men had taken quite some time this wasn't necessary anymore though. When I scanned the crowd for Green Shirt he was gone. Apparently me really turning to other people for help had spooked him after all. I thanked the men profusely, pointing out that my stalker had disappeared, and headed home, stopping behind corners and watching out for Green Shirt, feeling like someone had dropped me into a silly spy movie. More fun to watch than to star…
I made it home without further incident though.
By the time Caesar arrived I was already pretty hungry, so we stopped at a stall close to the mosque and ordered falafel and mango juice (Germany should be sued for not having mango juice on sale…). While we were sitting and eating the guy from the stall was getting into a heated discussion with an older man sitting at another table. Caesar said it was something about the rent.
A while later an Iraqi couple ordered food and sat down across from us under an awning to wait. Suddenly a cockroach dropped onto the woman from somewhere, and she squirmed and hastily shook it off. They kept waiting for their food, but at an outside table.
After bravely finishing our meal we did some more ambling about which included ambling through the Christian quarter Bab Touma again.
At the square at Bab Touma (the gate) we ran into B. (some American spending a lot of time in the Middle East whom Caesar vaguely knew; ask him about B. if you need to know more) and his local guide O. who wanted to invite us to some huge party with DJs that they were going to by bus, but we declined. We had already been on the way back home anyway.
Not much further on I couldn't walk anymore, thanks to some evil blister I had developed at the front of one toe, so I peeled off the offending shoes and my socks and continued barefooted. Poor Caesar was constantly being afraid I'd step into pieces of glass or - later at the suq - pins.
We arrived at the square I had been sitting at earlier in the day, and Caesar wanted to turn into the street to the left of the one leading to the suq. So the tourist said to the guide: "Actually, this is a short cut. It leads to the suq."
We rested a bit on a bench, then continued on our way home.
Shortly behind the mosque we had to wait a bit and then wind our way through a wedding party taking place in the street.
But somehow we made it home.
.
Friday, June 1st, 2007
I needed new food, so I bought a few tomatoes and three sorry peppers at the store next to my lodgings. Payment was achieved by the guy in the store indicating I should show him the contents of my wallet. When I timidly showed him a 50 SP note that seemed to make him happy, so I handed it over and got a few coins back.
On I went to try and find shops with fresher vegetables, exploring side alleys, but not finding any.
Upon returning from one of those alleys one of the many vendors there accosted me. I told him I had no time as I was hungry and looking for some place that sold vegetables, preferably fresh ones. He described how to get to the daily vegetable market (but not without handing me his business card): up the street I had just come from, then to the left, and right into the next street. And indeed there was a vegetable market where I bought eggplants, onions, parsley and garlic (a monstrously huge bunch of parsley for 5 SP, the garlic for 10 SP, evil, half-naked tourist lady cheating garlic vendor…).
On my way up the street to the market an older man kept pace with me for a while, smiling and saying hello. "Just to say hello, be friendly," he labouriously brought across. I said marhaba, and soon had to add that that was about the only Arabic I knew. He smiled again, increased his speed and said good-bye.
The two young men closer to the veggie suq on the other hand were a major nuisance. One kept doing stuff like indicating the shape of breasts with his hands, saying "I love you" and adding god knows what in Arabic.
They re-emerged after I had finished my shopping and only pushed off when I stopped and threatened violence.
On my way back I thanked the vendor who had sent me to that suq and - once home - set about making some food. Even if I say so myself, it was really good.
Caesar wanted to take me to the cinema but was somewhat late, so he called me and asked me to meet him at the square in front of the mosque.
The carpet, etc. vendor accepted that I was - again - in a hurry but said that I had to drop in at some time. Yes. Definitely. *cough, cough*


I already met Caesar at the steps leading up to the path around the mosque, where he was standing and talking to Amer. We arranged for him to come by Saturday evening to fix the satellite tv.
On we went through the closed suq and grabbed a taxi.
The cinema was showing Spiderman 3 and the Mr Bean movie, the latter of which poor deluded Caesar would have liked to see, but we went into Spiderman anyway.
The cinema was a bit chilly, so we walked out after the movie in happy anticipation of the balmy air soon warming us up again - only to walk into a rather cool and stormy evening. I sure was glad I had brought my long-sleeved hoodie along.
We got lost a bit, had a burger and hommus respectively at a restaurant, then headed back home, making a stop at an internet café.
.
Saturday, June 2nd, 2007
I didn't hear the alarm…. again. Nevertheless I woke up around 11, showered and warmed up some breakfast.
Shortly after that Caesar arrived. After hanging around a bit at the flat we headed to the Omayyad Mosque.
I had a long-sleeved shirt and a scarf in my bag, but female tourists had to pay an entry fee of 50 SP2, presumably for the rent of the dreadful, stifling cloaks they have to put on. Don't let the seemingly low price fool you, 50 SP is what we paid for most inner city taxi rides.
I duely took pictures of paintings, arches, minaret towers and Caesar in the inner court of the mosque.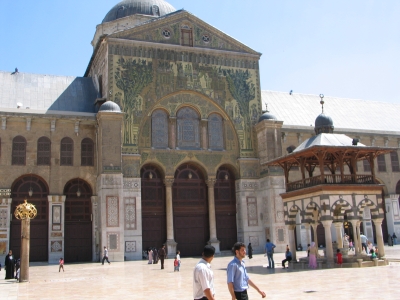 one of the many famous wall paintings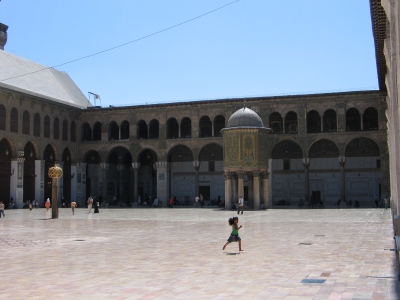 anti-gravity drive girl in court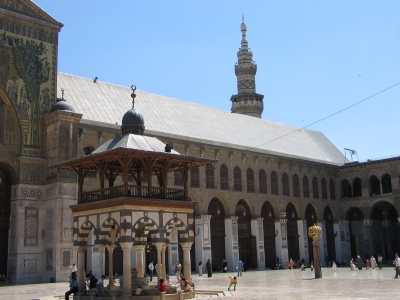 one of the minarets peeking over the roof
Caesar (hopping around in a short-sleeved t-shirt) seemed to consider my getup amusing and worthy of a picture, so here it is: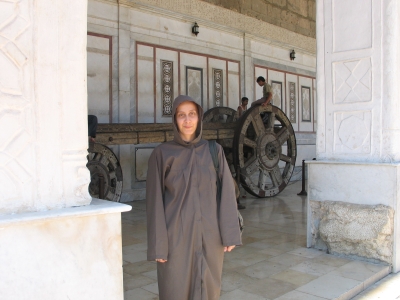 me in fashionable garb & kids playing on ancient cannon cart
Yup, this thing was as warm as it looks.
As my friend J. pointed out upon seeing the kids on another picture, "You can clearly see that this picture was not taken in Germany. German children would not have climbed over that chain to play on that cart."
What was even less amusing than the heaviness and warmth of the cloak's fabric was that I am suffering from a mild hypothyroidism. As long as I eat loads of iodized salt that's no problem, except for me feeling like I am getting strangled if I'm wearing shirts with tight collars. That cloak thingy was way too tight around the throat, and I could not follow Caesar's advice of simply undoing the uppermost Velcro fastener because the next one was at lower chest level, and I of course had not put on the decent t-shirt over my summer clothing before donning the cloak. I was starting to simmer anyway…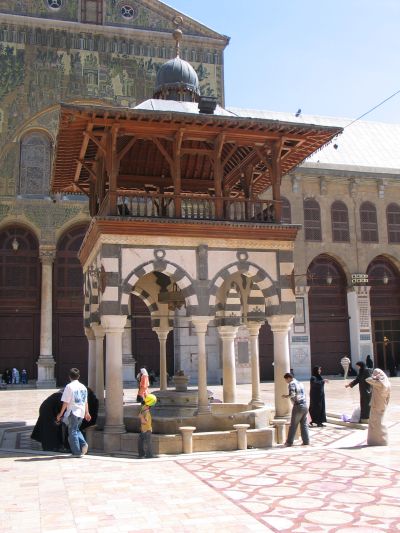 nicely shaded place for making wudu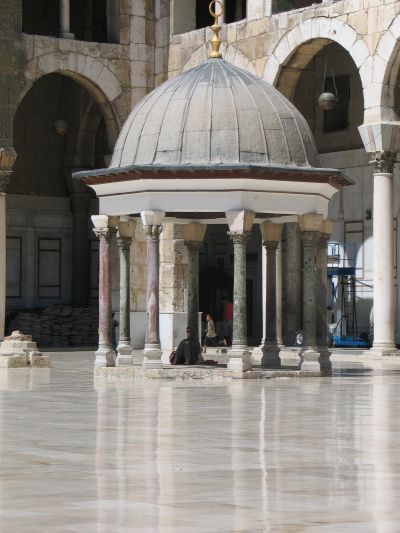 Tourist woman getting stifled to death by rental cloak?
We sat down in the shade for a bit, then went inside. The mosque is very beautiful, but there was some serious renovation going on, so we didn't stay for long.
Having been born a Christian I felt I should take a picture of the shrine inside, which is said to contain the head of John, the Baptist.
Funnily enough, only women were allowed to enter the roped off area you can see on the right, to approach the shrine and take pictures. When Caesar tried to follow me he was politely but firmly denied access.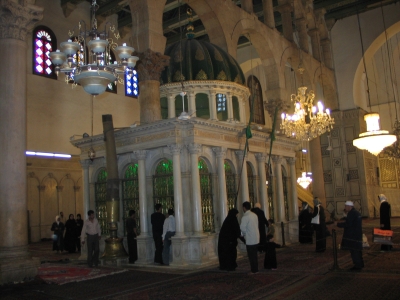 Shrine of John, the Baptist's head
Afterwards I only felt like getting out of that cloak and getting the hell out of there, so we (sadly) skipped paying a visit to the shrine of Saladin.
At one of the souvenir shops around the square I bought a bunch of postcards for the relatives, friends and colleagues.
Caesar was feeling lazy but said I could show him the vegetable market on the way home. After maybe a third of the way though he got (presumably) kidney pains and - understandably - wished to go back.
He rested a bit at my place before going home for further, in-depth resting.
Shortly after he had left I dozed off on the sofa (yeah, old people tend to do that

), which was not a clever thing to do, as the armrest tried to establish a symbiosis with my head, even with the cushion in between.
Caesar felt better after some rest and a shower and came back over. He didn't feel like walking around though, so we stayed at the flat, waiting for Amer to see to the fixing of the satellite tv, but the half hour he had promised on the phone stretched into two hours, so we went to an internet café.
It was a wise move to leave the flat as the idleness of waiting for Amer had driven Caesar to trying the contents of several of the mysterious spice and tea jars under the sink. No wonder the man is having weird pain attacks…
At the net café I chatted some with Khalid who only then realized that I was already in Damascus.

How did he think I had been able to SMS him from a Syrian phone number then…? Poor confused man.
When the connection broke down we left. They tried to cheat me by 10 SP, the buggers, shame on them. Thanks to Caesar I only paid the 70 SP that I really owed them.
.
Which is € 0.075. Go figure it out in your currency of choice yourself. Ok, I'll be nice. At that time that was about $ 0.10. [back]
€ 0.75 = $ 1.00 at that time [back]