Monday, April 5th, 2010
Deprecated
: preg_replace(): The /e modifier is deprecated, use preg_replace_callback instead in
/www/htdocs/w0081e40/wp-includes/formatting.php
on line
75
After all those beautiful pictures it's time for a little shocker again.
Just a little one; I promise.
During the recent storm one of the roof panels of our greenhouse flew away.
After having picked it up from the lawn and having sunk into the mud with a normal ladder, I went behind the house to fetch a stouter ladder. It doesn't sink as easily, yet it is rather heavy and was standing behind a lot of other stuff that hadn't been needed during winter.
While I was still struggling to get one end free of the tomato stakes, the other end tipped over a top-heavy bucket containing several heavy pieces of iron.
Of course this hit me full in the left calf.
I do not recommend standing on tiptoe on a ladder in a storm, half lying on a slanting roof that would not support your weight if you really leaned on it, with a leg that is screaming at you, while you're wielding some plyers in a frantic attempt to wrestle those weird (and seemingly spring-loaded) clamps that hold the panels in place under the framework again.
The pics I took several days later are rather low quality, the first one being rather blurry and the second way too dark, but I think they're giving a "nice" impression of the bruise/scratch I got.
Enjoy.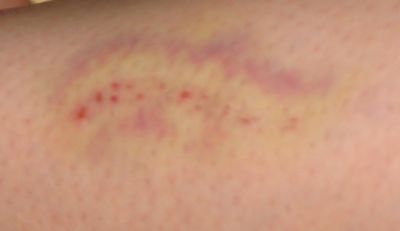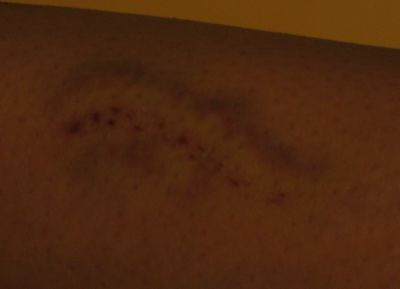 Actually, that would make a cool tattoo design….
And it was even more colourful than any Easter egg.
So…
Happy Easter, everyone!!

.
Edit:
Ok, I'll be generous and pander to someone's delusions.


If you click on the image you'll get a picture of the shark without my bruise.
Both images are - obviously - the property of Frans.