Tuesday, April 6th, 2010
Deprecated
: preg_replace(): The /e modifier is deprecated, use preg_replace_callback instead in
/www/htdocs/w0081e40/wp-includes/formatting.php
on line
75
As you all had so much fun with the bird riddle I figured I could feature another one.
To make things easier, the search photos contain a much larger bird.
The pheasant.
Of all the scatterbrained fluffballs populating this country, the pheasant seems to range among the most scatterbrained.
Usually a very shy bird, it tends to shun populated areas, except in winter when it comes sneaking in to eat the grains the smaller birds drop at their feeding places.
It will take off - emitting loud and somewhat hooting noises - when spotting a human. The same applies for scary noises, like the "clonk-twanggggg" that the lock of our door leading onto the terrace makes when finally yielding to our wish to pull it open.
On the other hand, the pheasant is the bird that discomfits me the most when spotting it by the roadside.
It will sit in the grass staring at the road.
It will continue to do that until your car is almost upon it.
Then it will leasurely start crossing the road.
If it looks as if you've been really close already and will pass the bird before it reaches your path, it will then speed up in a spirited attempt to still get flattened by your car.
Feathered lemmings they must be, I dunno.
Oh, yeah, right, here's some photos of our winter guest:
Then I decided to chance going outside, which startled fluffybrains into running into the shrubbery.
Can you see him hiding from the two-legged noisy monster?
I then sat down inside the doorframe (freezing my ass off, I might add) and waited.
After a while sillywings seemed to be unsure about why he was sitting behind a bush.
Had there been something that posed a danger or not? Hm.
Apparently not willing to chance too much, he then started strutting up and down along the fence, occasionally ducking behind a convenient shrub.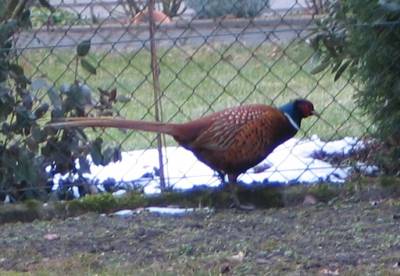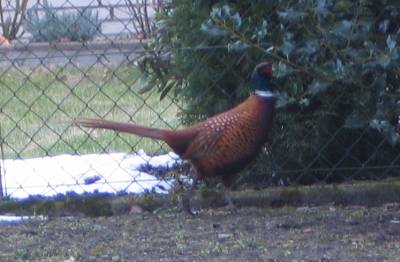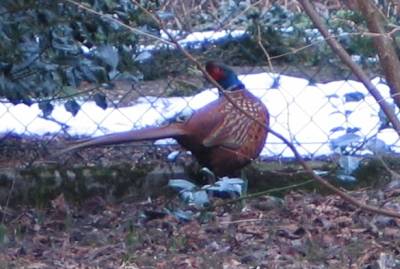 .
Now, the odd thing is, at least two pheasants seem inclined to stay here for good.
When I came walking around the house three days ago to pick the first budding autumn crocus ramsons, there was a hectic flapping of wings and some hooting emanating from a pheasant fleeing into the next garden behind the fence.
After a while I heard some other noises, and discovered that there were two pheasants on the neighbours' lawn, having a heated discussion concerning territory.
I ran and fetched my cam, but the damned buggers kept moving about so fast that there was always something in my line of vision.
This last photo was the only one I managed to snap off, showing at least one of them, with the other one being behind the neighbours' rhododendron.
Looks like they're moving into the village for good.
.
In other news, there will be a bunch of photo posts coming up shortly.
This is mutating into a photo blog.