Friday, July 10th, 2009
Deprecated
: preg_replace(): The /e modifier is deprecated, use preg_replace_callback instead in
/www/htdocs/w0081e40/wp-includes/formatting.php
on line
75
As some of you may be aware of, only two days after mutilating my finger I went on a 1.5 handed drive to foreign places1.
Thanks to my navigation system I took the scenic route through the city Kik is living in. It told me to take the first exit off a huge roundabout but showed me to take the second, which seemed just as wrong as the first one to me.
So I took the third.
That was almost the right decision under the circumstances2, as the navigation system then made me turn around and suddenly knew where I was.
After I had arrived we just had time to fix and eat some dinner, then we had to leave to pick up Kenny, er, Jeroen and Rifca and head out to Tilburg.
The club was insanely hot, humid and stifling, so we fled to the gallery, which was the place with the least "pollution". Unfortunately the best places were already taken, but we managed to find a spot on the second tier up from the railing.
The opening act wasn't very exciting, but at least they weren't utterly horrible either like those…. people… who opened for System of a Down a few years ago.
I had been told that Disturbed were a very good live band, and a special edition CD with a few live bonus tracks that I own seemed to prove that, so I went there with high expectations.
And they didn't let me down.
The performance was really great both from the musical point of view and concerning interaction with the audience.
At some point the singer even complimented the Dutch audience on their being able to understand what he was saying, and went on to lament the fact that in most other countries the audience had no clue whatsoever what he was going on about.
So, ok, maybe he says that to every audience, but if he doesn't then I am afraid he has a point. The average Dutch person certainly knows way more English than the average German, and that's a fact.
But enough of the words, let's see some pictures - still and moving: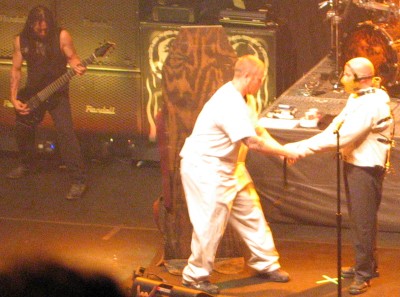 Here they release Hannibal Lecter onto the stage…
Here's a little something the audience sang for Disturbed between songs:
Unfortunately I only started filming this rather late, here's the version of someone who was faster.
Unfortunately, the sound quality of the following song that he or she captured as well leaves a lot to be desired. Digital photo cams just aren't made for capturing loud audio like that.
My first reaction to the chanting was the same as David Draiman's by the way: "What?!"
I'll leave you with something that I found by following the related videos that I got to my upload:
Excuse me, but is this the right concert? I am confused.

(If your computer and/or your internet connection allows that I'd advise you to watch the high quality version of this video; it is sure worth it.)
"We are…"
"… Disturbed!"
"We are…"
"… Disturbed!"
"We all are…"
"… disturbed!"
.
the Netherlands [back]
actually, I should have taken the fourth exit [back]