Deprecated
: preg_replace(): The /e modifier is deprecated, use preg_replace_callback instead in
/www/htdocs/w0081e40/wp-includes/formatting.php
on line
75
For a couple of years now people have been warning the population on and off of the common ragweed or Ambrosia artemisiifolia (more informative article here) which - although being a North American plant - has started to spread over here as well.
And why is it spreading? Because winter bird feed manufacturers put it into their feed mixes.
Very clever idea, that, putting the seeds of a plant whose pollen causes strong allergic reactions even in people who have never shown any signs of hay fever and the touching of which occasionally causes some really nasty rashes in people into most feed mixes…
They can't seriously be thinking that the birdies are eating every single seed and not spreading 'em around like the little table manner monsters that they are?
Well, anyway, I've been reading about it and bookmarking the odd "How to recognize Ambrosia" page as I am, well, not prone to hay fever as such (although I suspect I am suffering from a mild one by now) but have had my share of trouble with a nickel allergy that often affects what I can eat as well.
So a highly allergenic plant seemed something to be worth watching out for.
So.
I noticed those nice plants growing under the plum tree. The - not to put too fine a point on it - winter bird feeding tree.
I got this feeling I should have a look at my Ambrosia bookmarks again.
One pack of seed mix in addition to the sunflower seeds and - presto - ragweed plantation. Thankfully not in bloom…. yet.
I snapped some farewell photos, put on gloves and set to work.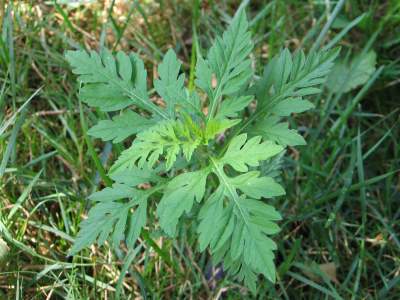 They do look nice, don't they?