Deprecated
: preg_replace(): The /e modifier is deprecated, use preg_replace_callback instead in
/www/htdocs/w0081e40/wp-includes/formatting.php
on line
75
I sincerely apologize for not taking note of the exact location of the stones being featured in this photo; I'll make sure to do that next time I go there.
And go there I must with some other friends to show them what we discovered in the woods….
(The tension just keeps on building up, hm?)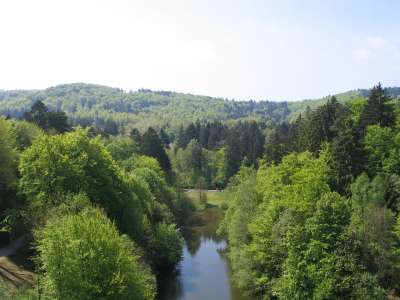 view of lake behind the stones from stone 3
Note the guy pointing a (video?) camera at us in turn.
But let's stay on solid ground for a moment.
For some reason the grottos that have been carved into the stones are off limits; except for one opening at the lake - which you should only try to reach armed with climbing gear - all entrances have been barred.
I have done some reading on the net, and all sources I have found so far only went on about the relief the church cut into the face of one stone. None mentioned a carving that looks a lot older and which seems to show a person holding some long handled weapon or some such. It is hard to tell because the carving is rather worn.
I promise that next time I will also take a better photo of the carving. For now you will have to make do with this one: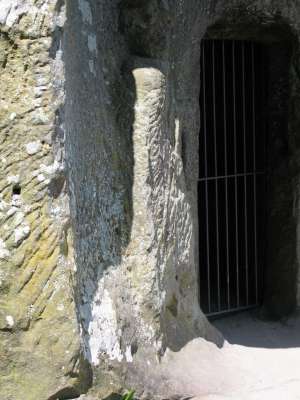 old statue/carving at the left of entrance to grotto
Upwards and onwards! Well, actually downwards towards the lake front.
Carved into a small stone and facing the lake is a grave. (Don't ask me what they did with its original occupant.)
These steps are leading onto the stone to the right of the grave:
And then you can stand atop the grave, gaze out across the lake or the tourists frolicking along the paths around you and wonder why you are standing there on top of an old grave in the first place.