Deprecated
: preg_replace(): The /e modifier is deprecated, use preg_replace_callback instead in
/www/htdocs/w0081e40/wp-includes/formatting.php
on line
75
It isn't that I actually have a long story to tell, but the gazillion photos I took on our trip on Pentecost could only be reduced to a still staggering number to go into this post.
So prepare for a multi-multi-part photo post that will hopefully enthral you as much as the place we went to enthrals me.
Also, there will be a humourous intro photo, a mysterious discovery in the woods and animals.
Thrills galore!!!!!
My Dutch friend M. visited me on the Pentecost weekend, and on Sunday we drove over to the Externsteine which I already mentioned once in the distant past.
Being from the flat, flat Netherlands, M. was already feeling like he was in a foreign country once we had reached the outskirts of the Teutoburg Forest mountain range.

Then we parked, got out, shivered in the unforecast cold (evil weather people), took a look at the car we had parked beside and wondered: are there really classes in that?!?
Shaking our heads in confusion, we started walking towards the stones.
Here's one of the early glimpses: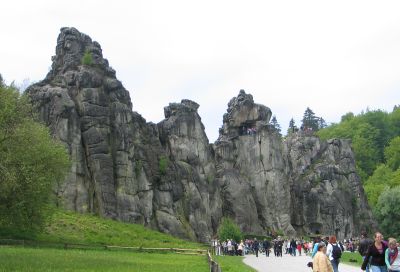 "main" stones as seen from the front
And for a easier reference: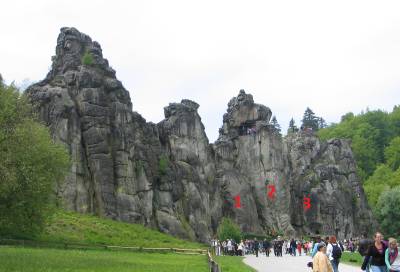 legally climbable stones as seen from the front, numbered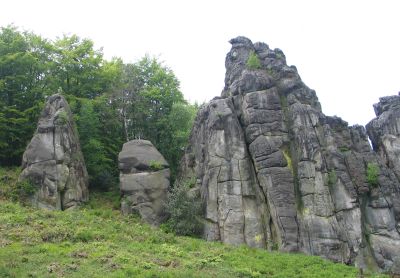 a few stragglers on the left of the stones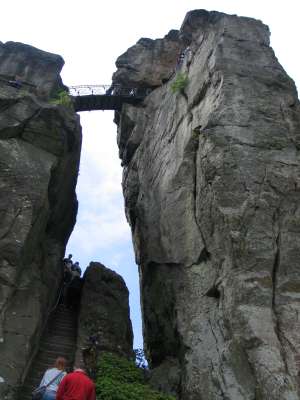 bridge from stone 1 to stone 2 as seen from the ground