Deprecated
: preg_replace(): The /e modifier is deprecated, use preg_replace_callback instead in
/www/htdocs/w0081e40/wp-includes/formatting.php
on line
75
Each winter when there is frost or snow we use the plum tree as a feeding place for the local birds.
"Local birds" being every two-legged, feathered creature in the vicinity, apparently.
It really wouldn't surprise me (much) if I were to look out and see an ostrich among the assembly.
Even the crows find something acceptable to eat in the form of the fat & seed balls meant for tits1 which they simply drag up to the branch they're sitting on, clever buggers…
The pigeons are too big and unwieldy to partake of the feed suspended from the tree and too brainless to do as the crows, but luckily the smaller birds are messy eaters, so they don't have to go hungry either.
The deep snow sure made for some funny impressions:
Here's one of the messy eaters:
And if you'd all take a look at the original photo, I have a riddle for you.
Apart from that yellow birdie at the feeding station there is one other bird in the photo. Can you spot it?
Eyes smarting already? Ok, let's get on with the photos.
Here's some sorting through the seed mess on the floor.
Note the duck impression the one in the back is giving.

These two don't have much going for interspecies relations, stolidly staring off in opposite directions.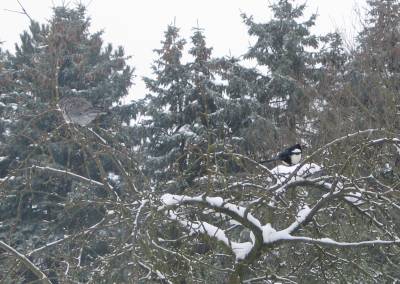 Pigeon and magpie: not talking
Two more birdies feeding:
And for those who need it - the solution to the riddle above:
.
The songbirds of that name, Caesar, the songbirds… [back]