Deprecated
: preg_replace(): The /e modifier is deprecated, use preg_replace_callback instead in
/www/htdocs/w0081e40/wp-includes/formatting.php
on line
75
The title says it all - a week after I shot the pictures in the post before the last one I took my poor camera out into the cold again for an encore.
Also, there'll be a couple more photo posts up shortly - a few being more or less winter related as well.
But back to this one.
For these parts of Germany we had a rather long and harsh winter, especially in terms of the amount of snow that came down. We're really not used to that kind of thing anymore around here.
Still, it made for the odd freaky picture.

Behold a cold climate relative of the Blob devouring our neighbours' driveway lamp!!!
Also, bear witness to the amount of snow that poor me had to shovel off the driveway!
It had to go somewhere, so I heaped it up in the more or less empty spots between the larger shrubbery of our front garden.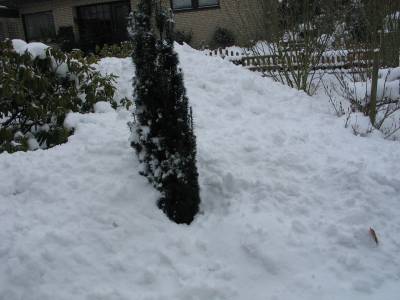 … and running out of depot space.
You should have seen our poor Christmas rose when that snow was finally gone. It did look a wee bit squashed, the poor thing.
In other blog related news, I managed to finish the update to my smiley page.
And, no, Caesar, I am not open for further suggestions; it took me long enough to add these, and this poor old woman needs a rest now. Plus, I don't even like popcorn.