Deprecated
: preg_replace(): The /e modifier is deprecated, use preg_replace_callback instead in
/www/htdocs/w0081e40/wp-includes/formatting.php
on line
75
Monday, June 11th, 2007
Well, *coughs*, I'm afraid here my detailed notes stop, so I have to rely on my hazy memory, which means shorter posts for the last couple of days.

After a late breakfast of peppers, zucchinis and onions it was alreay too late to head out and visit the Immigration Office.
Immigration Office?

Yes, Immigration Office.
Although I had applied for a visa for a longer period it said on it that it was only valid for 15 days. I had checked with the embassy before my trip and had been told that I'd have to go to a police station after 15 days to get a stamp, which would allow me to stay for longer.
Caesar was not so wild about the thought of going to a police station after the incident with the bus trip and suggested we go to the Immigration Office instead.1
But, as I said, that day it was already too late for that.
I'm afraid I don't recall much else of that day except for buying veggies for dinner, which included a lot of eggplants, and Caesar claiming that the result was "awesome".
I think the poor boy needs a veggie cook at home.

In the evening I finished off the bottle of strawberry liqueur under Caesar's critical (analytical?) eye.
Obviously, the young man doesn't deal with tipsy people very often.
When he left later that evening he remained standing in front of the house until I had reached the living-room again and waved at him from the window.
Thus he could go home in the happy knowledge that I had safely made it upstairs again without falling and hurting myself.
Should I have pointed out that later I had to climb down one flight of stairs again to reach the bedroom? Nah…

.
Tuesday, June 12th, 2007
Tuesday started with Caesar being worried about me as I didn't answer my phone due to being under the shower.
Still worried about my "alcohol excesses" of the previous night…?
That day we managed to set out early enough to go to the Immigration Office.
After finally having found the right room I did get my stamp - and the information that even without that stamp my visa would have been valid for a whole month, and that I really needn't have bothered.
Okay… at least now I know what the Immigration Office in Damascus looks like from the inside.
As we tend to say about bureaucracy here in Germany: "Often the right hand is not aware of what the left one is doing."
A universal truth, it seems.
Caesar asked me if I'd rather walk home or take a taxi, and although I am a rather lazy person I opted for walking.
After only a few minutes of walking through the blazing noonish sun my faithful guide got overwhelmed by his worry for the White Woman and hailed a taxi anyway.

Soon after arriving back at the flat, Caesar took off to some meeting with the guy they'd rent their new flat from, so I was all alone when Khalid called to let me know that he was in Syria, "showing Whities2 around". The reason he did that, he said, was to "show them how wonderful Jordan, Syria and its people are until they'll commit suicide".
Ohhhhkay.

When Caesar came back we went for some dusk veggie shopping, the results of which I had scribbled down in my note book as an example of how cheap veggie shopping in Damascus is for the western tourist.
It already is if said tourist goes shopping all alone and pays Silly White Tourist Woman™ prices, but it gets really insane if you get an Arabic speaking guy to handle the actual purchases.
We bought 1kg of tomatoes, 0.5kg of sweet peppers, 1kg of zucchinis, 1kg of eggplants and 0.5kg of onions.
For all that (4kg of veggies) I paid 90SP3.

.
Wednesday, June 13th, 2007
It seems Wednesday mainly consisted of eating, watching tv and shopping for souvenirs.

Ok.
That's all I jotted into my notebook on this last day of at least jotting stuff into my notebook if not keeping a full diary.

.
Thursday, June 14th, 2007
This is what you could see of the Omayyad Mosque from the roof of my rented house.
With zoom of course, but it wasn't really that far anyway.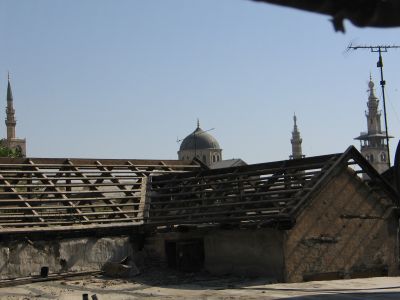 the Omayyad Mosque peeking out among the rooftops
The following…. decoration…. adorned the wall above the door from the kitchen to the living-room.
What it was doing there, only Amer knows…
This day Khalid called back about a meeting.
He said he couldn't shake off the Whities, and would be going out with them tonight and simply include me and Caesar.
When he knew more he'd call again to fix a time and place.
I had just bravely bought a falafel sandwich from the Cockroach Stall and was sitting in the shadow of the Omayyad Mosque, devouring it, when my phone rang again.
I think Khalid spends wayyyy to much time hanging out with his "Whities".
Caesar answered my phone then for two reasons:
1. to try and confuse Khalid, and
2. because I was eating that sandwich and had my mouth full anyway.
He wasn't too confused about Caesar answering, but what confused Caesar and me then in return was that Khalid didn't even try to switch the conversation with Caesar to Arabic. That man is too fond of English!

Anyway, he told us to get over to the Four Seasons Hotel, where he'd be waiting in the lobby.
Now, I had been chatting with Khalid on yahoo in the past. Where he is using a somewhat - not to put too fine a point on it - outdated avatar picture.
I had certainly spotted no-one remotely looking like Khalid's picture in that hotel, when suddenly this bearded bear of a man

broke into a huge grin and hurried over to us, profusely showering us with greetings.
Tonight's tourist activity consisted of dinner at a picturesque Arabic restaurant.
Which was imminent.
So "the Whities", Khalid, another guide, Caesar and me rushed outside and crammed into various taxis, Caesar and me sharing with Khalid and two Americans, Debbie and David (not the one commenting on my blog).
Due to some miscommunication between the two guides we ended up at the wrong restaurant first.
Maybe Khalid can enlighten us here; did they have the same name or how did that happen? Fact is that some guy he asked for directions took us to the wrong one.
Well, a phone call cleared things up, and we managed to find the right restaurant in the end.
The picturesque restaurant turned out to be picturesquely Arabic because it was situated in the Old City, and not only that, it wasn't very far from where I lived.

When I told Khalid that my choice for dinner was (the appetizer) Baba Ganoush he asked me "You want to eat Baba Ganoush for dinner?! May I laugh at you?", did just that and then ordered it for me. Hey, it's not my fault there were no vegan main courses…. *mumbles*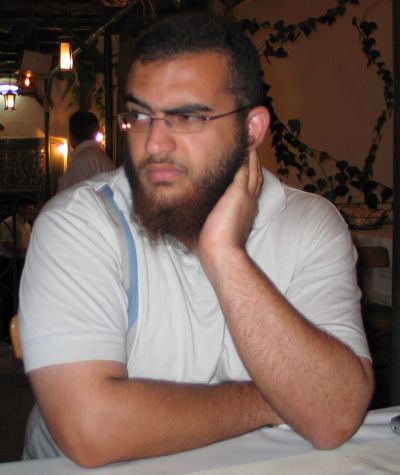 Khalid, looking sarcastically grumpy4 for some reason
In the course of the evening various topics were discussed, including blogs.
Khalid asked Debbie if she had ever heard of "In Iraq sex is like snow", which she had. Before she could say anything else he added that this was a really horrible blog, wasn't it? His whole stance made Debbie give the seemingly polite answer that, indeed, it was. The poor woman was then very embarrassed to hear that the author was sitting across the table.
When she was done apologizing and insisting that she liked it, I asked her if she had maybe noticed someone called Melantrys commenting on the blog. "Yes, I think I….. no! You?"
Small world, innit?

As only Germany seems to produce cola and orange soda mixes, and for some horrible reason Khalid is a Pepsi person, I had brought him some Schwip Schwap, which is the Pepsi version of my favourite Coca Cola Company drink, Mezzo Mix.
Alas, I am senile, and only remembered about the Schwip Schwap in my house now.
I asked Khalid if he had to herd his tourists back, or if maybe he could accompany us to my lodgings at the end of the evening to get his drink.
No herding was required, most of the group took off immediately after eating anyway, and as he didn't want to stay there for long and I had assured everyone that it really wasn't far from the restaurant, Debbie and David decided to tag along.
That way Khalid got his Schwip Schwap and "the Whities" got to see a regular house in the Old City from the inside.
I think the stairs impressed them the most….

By the way, did I mention that dinner was on Khalid?


No, I didn't, and then it didn't fit into the text flow anymore.
Well, dinner was on Khalid; thank you again.

.
Friday, June 15th, 2007
Wow, my last day already.
Obviously, I packed.
Including what was left over from the salt, pepper and curry I had bought, and the insanely fresh garlic, the latter of which I wrapped into various layers of plastic so it would not be smelled out.
It was a bitter-sweet day of walking around the Old City and thinking about the imminent departure.
In the evening we went into Bab Touma and found ourselves a restaurant that also served alcoholic drinks.
The menue was rather…. short though, and the only drink on it that I actually knew (although it doesn't exactly range among my favourate ones) was a margarita.
Sooooo we ordered two margaritas.


Well, margarita is not really the most palatable of drinks, especially when you're not in the habit of drinking, so I ended up drinking both of them.
And, no, that was not intentional.
Way too shortly after that we were back at the house, checking if I had packed everything, fetching my stuff and locking the door behind us.
Caesar pocketed the key, so he could give it back to Amer the next day.
Despite the late hour (the plane from Damascus to Istanbul was going to leave at 4:25am) we quickly got a taxi to take us to the airport.
Unfortunately, the driver stopped almost immediately, and practically in the middle of the road - without explaining himself - to hop out and buy himself a glass of tea from a street vendor at the side of the road.
I had totally forgotten about this incident (Repression?), but Caesar reminded me after having read this entry.
Nevertheless we arrived well on time, and as passengers were called to their flights from the main waiting hall, we still had lots of time left to just sit and reflect on the holiday.
When they finally called the passengers of flight 1255 to Istanbul to check-in, at least the bustle of dragging all that luggage over kept us busy enough not to make a spectacle of ourselves and totally burst into tears.
We hugged good-bye, and I went through the gate and checked in my luggage.
.
More on that topic in the "Epilogue" that will follow shortly.
Yes, shortly, 'cross my heart and all that. [back]
i.e. some Brits and Americans [back]
€ 1.35 or $ 1.80 [back]
Or grumpily sarcastic? [back]