Deprecated
: preg_replace(): The /e modifier is deprecated, use preg_replace_callback instead in
/www/htdocs/w0081e40/wp-includes/formatting.php
on line
75
Finally, the end of the epic travel saga:
Friday, June 8th
I had breakfast, then sat watching "The Piano Player"

on tv while waiting for Master Caesar.
He - coincidentally - arrived soon after some SMS threats and told me that his family would be moving to another apartment in a few days, and he'd been conscripted for some work connected to that.
I had been doing a bit of reading in my travel guide book and wanted to see the cellar chapel in the house of Ananias.
So we went back into Bab Touma and easily found it, although we had our noses in my book for guidance instead of checking for obvious street signs.


At the gate into the courtyard of St. Ananias' house Caesar totally surprised me by announcing that I should give him a call when I was done, as he was not allowed to enter there, then he strolled off.
The man at the ticket office spoke English, took my entry fee of 25 SP1, asked me where I was from, handed me a glossy pamphlet about the chapel in German and pointed me towards the entrance to the stairs.
When I entered, there were a couple of French tourists standing in the main room of the chapel - to the left - obviously getting a guided tour, so I walked straight across into the only other room down there and started trying to take some pictures. Sadly most of them turned out really bad. I suppose I should either buy new, steadier fingers or a tripod if I want to make more photos without using the flash.
Anyway, that room tells the story of Saul, in 30 framed pictures, 15 each to the right and left hand walls:2 from his being struck blind on his journey to Damascus in order to prosecute the Christians there, over his conversion and baptism by Ananias, his flight from Damascus, and all the good he did as Paul in spreading the Word as one of the apostles, to his death as a martyr.
A bit confusing for a westerner was the arrangement of the pictures from right to left.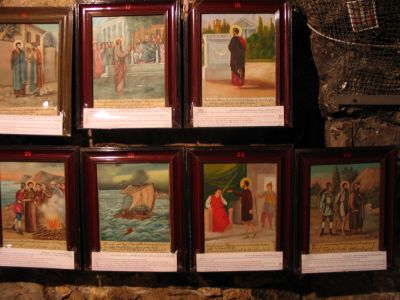 the story of Saul 17-19, 22, 23, 25, 26
Shortly after I was done there and had returned into the main room, the French people were done as well and trooped into the room with the pictures.
The first picture below is rather shaky but I want to give you an overview of the chapel.
As you can see, there wasn't really that much to see, so I soon left and climbed the stairs back up again.
I've been doing some reading, and it is said that this chapel is in what used to be the cellar of St. Ananias' house.
Now, presuming they didn't get the wrong house number, and the house of Ananias was indeed at this spot, the story still has a flaw.
Like so many really old cities Damascus is built on top of Damascus. So if the chapel is in Ananias' house, it is in, say, his living-room, or his parlour, as most of the old Damascus of that time lies 5m below ground level today. By a stunning coincidence *wink, wink* this happens to be how just deep down the chapel is situated.
Some historians even put forth the theory that the house of Ananias was destroyed and a large Byzantine church built where it had stood, and today's chapel is what remains of that church, which had been destroyed in part as well.
I stepped out into the searing sun again and informed Caesar that I was done.
As Hananiah Street branches off to the left of Straight Street right in front of Bab Sharqi, I took a few more pictures of the gate. This time from inside the old city wall and in glaring daylight.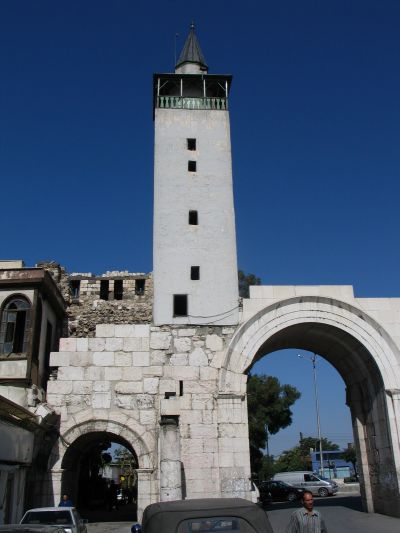 Bab Sharqi with all of the minaret
In the background, on the left side, you can just make out a bit of the arch of the right pedestrians' gate of Bab Sharqi. So, Hananiah Street was indeed very close.
On the way back we bought some vegetables in Bab Touma and new oil at the store beside my house.
Then Caesar took off to get his stuff from home, as he planned to spend the night at my place.
As you may remember, we had bought bus tickets to Palmyra,


and the bus was going to leave at 8 am the next morning. The bus station was relatively close to my place, but far away from his.
I cooked the vegetables, had a dinner of first hommus (this time from around where Caesar's family was staying) and bread as an appetizer, then the cooked food with some bread. That hommus was really good as well. Then I gazed at the tv and waited.


Some time after his arrival I was waiting again, as my host/guide/trash collector depositor/knight in shining armour took off to try and buy another 1l bottle of coke. When he returned - without a small bottle - we watched the Simpsons; then decided to go to bed. I had left my cell phone in my bedroom, so I only then found several mised calls and an SMS from Caesar's brother. Caesar had not only forgotten his own cell phone back home, but also his passport, which for some cryptic reason bus travellers are required to carry on trips within Syria. So the poor, senile man had to go and fetch it of course.
It was rather late, so I went to bed, but he managed to rouse me when he returned, so I could let him in.
And for those with evil nasty thoughts among my readers: I spent the night in my bed downstairs, while Caesar took one of the sofas upstairs in the living-room. Two closed doors, the kitchen and a dangerous flight of stairs between us. Sounds proper to me.
.
Saturday, June 9th
Surprisingly - after the short night - I heard my alarms, showered, got dressed, and then woke Caesar while making breakfast.
We ate, packed our stuff together and even managed to catch a taxi right in front of the house.
At the bus station Caesar enquired about the bus lane, and after a short wait the bus arrived. Everyone boarded.
The driver checked the passports, handing mine back to me, but keeping Caesar's. After a while of settling in in our seats and waiting for departure time to arrive, Caesar got called to the front of the bus. His valid passport was not enough ID - for an Iraqi refugee in Syria - to legally board a tourism bus headed out into the desert to historic sites within Syrian borders. They also wanted other papers, including his residence permit. He tried talking to the people at the office inside the bus station, but to no avail. They kicked him off the bus, and thus me too, of course. I was not going to take a trip into the desert all alone in a country where not so many people speak English. Besides, I could hardly just take off and leave Caesar behind at the bus station.
They also refused to refund the money for the tickets. Ok, they hadn't been expensive - from my tourist point of view - but quite apart from this being the icing on the cake their behaviour really pissed me off on general principle.
I surely don't remember the dude at the travel agency saying anything about bringing more than just passports.
I wish Caesar had let me make more of a scene; I had the impression they looked somewhat concerned that they had pissed off a western tourist. But he just wanted to get away, which was understandable.
1. Iraqi people who are graceously granted permission to stay within Syria should not go about making scenes at being treated unfairly but are expected to be thankful and humble.
2. The poor man felt like crap for spoiling the trip, as he perceived it, and me ranting loudly about wanting my money back did nothing to cheer him.
As it turned out, Caesar's residency card had expired and his father had intended to fix that at the Syrian embassy in Iraq - but so far hadn't done so.3 So no trip for us.
But I am jumping ahead of the tale; I only heard about all that much later when Caesar returned from home.
So first we bought some veggies so that I wouldn't starve.
One vendor didn't want to charge us for the garlic because I only took such a ridiculously small amount: only one bulb (yes, one bulb, not one clove

). Ohhhhhhhkay.
Caesar gave him 5SP anyway.
We sat for a while, talking about what had happened that morning, then Caesar went home to discuss paperwork related things with his mother and to catch up on some missed sleep.
While I was cooking lunch I noticed a commotion outside.
A light blue minibus was trying to drive past my house from left to right. It took the driver quite some time of inching back and forth and annoying the heck out of all the people who wanted to drive their cars past in both directions4 until he realized that where regular cars barely fit minibusses do tend to get hopelessly stuck.
He somehow managed to back the bus up into a side street, allowed most of the traffic that had been waiting for him to finish his silly attempt to go past, then he returned whence he had come.
I took some photos of the event, but the mosquito netting got in the way in most of them, sent SMSs about it to all and sundry, and returned to my cooking.
Exhausted by the thrilling minibus event and all the work with the cooking, I sat down to have lunch and watched tv and read some until Caesar returned. I felt like booze but by that time it was pretty pointless to go and stare at the closed stores.
We met with Amer to give him the passport copy that he had requested, but then he suddenly said he needed a copy of the visa. Make up your mind, pal!
People who rent out houses should know about tourists and their needs, so we asked him about places that sell booze. He mentioned some square Caesar had no clue how to get to and Bab Touma of course.
We went and made a copy of my visa at the Suq Al Hamadiyya, then hung out at the house for a while until tired Caesar took off to get his beauty sleep.
.
Sunday, June 10th
On Sunday we bought a couple of books, and later a bottle of strawberry liqueur in Bab Touma. 100% artificial colouring, the flavour was ok though.
While traipsing around Bab Touma I aspied a place that offered "Pizza and Pasta" in big red neon letters, which indeed they did have on their menue.
I had a rather huge pizza with green peppers, tomatoes and onions while Caesar had some pasta with a sauce that looked like bolognese.
What was a bit confusing was that this Italian restaurant was playing French music while the walls were decorated with (item 1) a large ad for Scotch whiskey with Sean Connery and (item 2) a tasteless wooden(?) deer head.
The kids of the people at the next table at some point wanted coke, then quickly changed their minds when being told it was a Pepsi place. Clever kids.
After a nice dinner in the ambivalent ambience we strolled back home and tried the liqueur.
Well, that is, I tried the liqueur, while Caesar took mental notes.
At some point I complained to my sister, Mafdet the nasty Kitten, about Caesar's making fun of me drinking, which led to merry SMSing all around: my sis mock-scolding him for his behaviour and whatnot.
.