Deprecated
: preg_replace(): The /e modifier is deprecated, use preg_replace_callback instead in
/www/htdocs/w0081e40/wp-includes/formatting.php
on line
75
I may have neither the know-how nor the impressive gear that Kik has, but still we have one thing in common: give us a camera and some nature and we're happy as a pig in the muck, and cavort around, taking pictures of just about anything.
Which we then did.
As you might have guessed.
I tried to narrow it down to a certain type, but did not succeed, so all I can say is that the following pictures show mallow.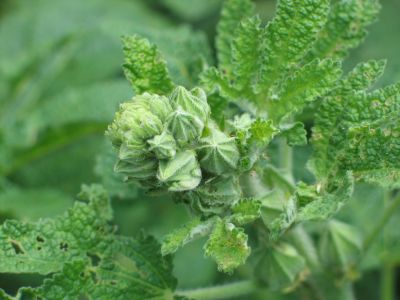 closed buds of pink flowered mallow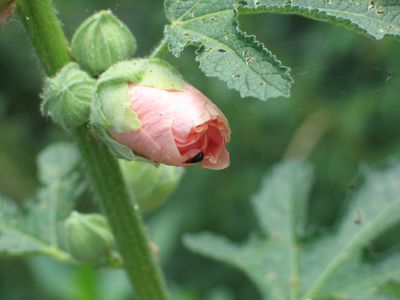 opening bud of pink flowered mallow with bug
Near a pasture I found a patch of white clover (Trifolium repens), which stunned me somewhat:
"Well, yes, that is white clover," I hear you say. "Seen it, searched for the four-leaved ones, thanks to those never-quite-dying superstitions… But those are all only trefoil, so what's the big deal, Mel? Don't get out much, do you?"
"No, no," says I, "I know my clover. Actually, we have tons of it growing in our lawn, unfortunately."
"Well, it looks a bit tatty," you say, trying to be polite.1
Ok, it seems you'll never guess, so I'll just show you, ok?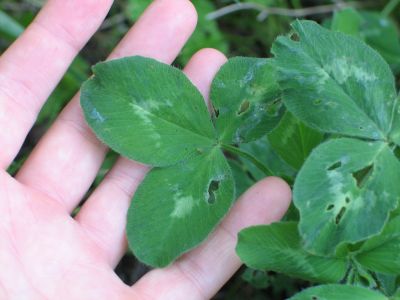 OMG, it's teh giant man-eating clover, ruuuun!!!
*coughs*
Sorry.
Got a bit carried away there.
Anyway, a bit further on we found some normal sized clover, which came as a bit of a relief for me.
And there was more - albeit less astounding - flora to see: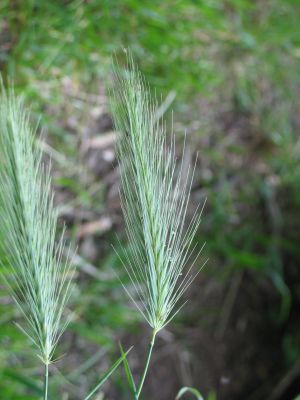 some grain growing wild, with insect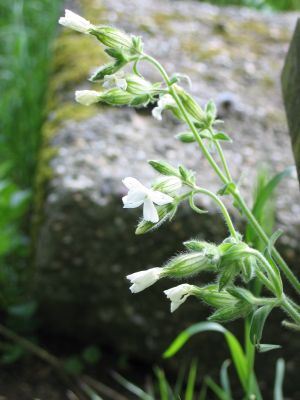 white campion (Silene latifolia)
But what's a foray into nature without some buzzing insects?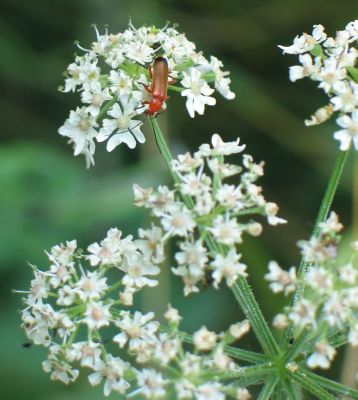 soldier beetle, on flowering goutweed, if I am not totally mistaken
Then someone got it all wrong about photos and how they are taken and alighted on the telephoto lens of Kik's camera…: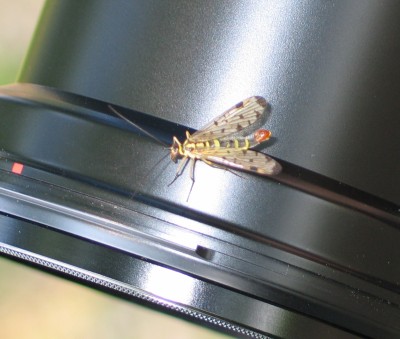 common scorpionfly (Panorpa communis) being "photogenic"
Let us now get to the point Pandora has already been demanding in part two of my castle posts:
The shy creatures that were on the pasture I mentioned earlier on.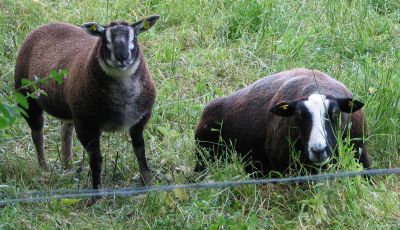 "Bummer, that two-legged creature found our hiding place…"
P.S.:
.
I can't help the feeling that this sounds like the type of conversation I might have with Pandora…. [back]