Deprecated
: preg_replace(): The /e modifier is deprecated, use preg_replace_callback instead in
/www/htdocs/w0081e40/wp-includes/formatting.php
on line
75
The day after seeing Disturbed we did not lazily recuperate but drove to a castle that is not very far from Kik's place: Kasteel Doorwerth.
Dating back to the 13th century (and originally named Kasteel Dorenweerd until around 1800) the castle has been burned and bombed (ahem…) to pieces a few times and has been through the hands of various owners, including German ones through the 17th and 18 century.
These days you can come and gape at the castle and the surrounding landscape, visit a museum situated inside or eat at a restaurant there.
We settled for gaping and snapping photos.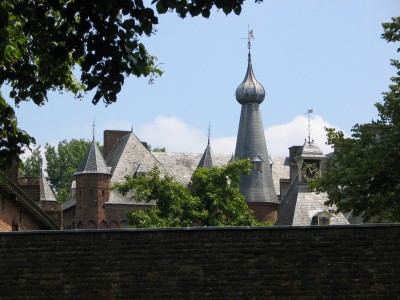 turrets, as seen over outer wall
Growing inside the the court is a somewhat tattered (*cough, cough*) black locust tree, or false acacia (Robinia pseudoacacia), which is said to be the oldest one in the Netherlands.
Considering that it was apparently planted in the first half of the 17th century, only shortly after the North American tree was introduced to Europe by the Frenchman J. Robin in 1601, this sounds very likely indeed.