Sunday, June 28th, 2009
Deprecated
: preg_replace(): The /e modifier is deprecated, use preg_replace_callback instead in
/www/htdocs/w0081e40/wp-includes/formatting.php
on line
75
Welcome, dear readers, to another episode of "Trying to Mutilate Yourself in Six Easy Steps" with Melantrys.
Step 1: Pick a tree that sneakily started to grow on its own behind the lilac. Better yet, pick two.
Step 2: Fetch a spade and start to dig.
Step 3: Dig closer to the trunk by hacking at tree roots with the spade.
Step 4: Forget you are working close to a fence.
Step 5: Hit fence post with a finger in mid-hack. For good measure, don't just hit the post, but scrape along it as well.
Step 6: Sink to knees while pressing your hand to your chest.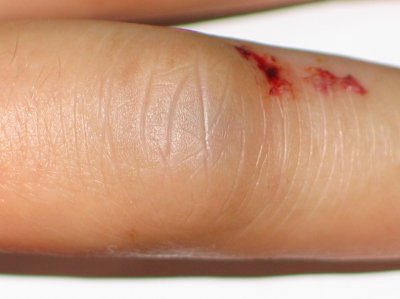 Actually, I don't want this to be my finger, 'k?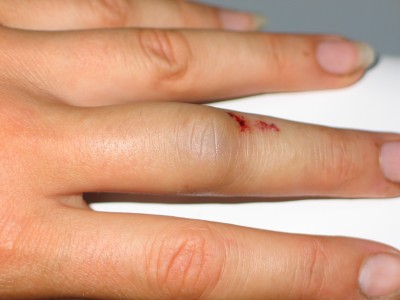 Actually, the whole of the photo is way more horrid than the cutout I posted above (Update 2009/07/10)
It's a shame, really, that the colour isn't coming out so well in the photos. In real life the joint is a truly interesting shade of blue.
Update (2009/07/04):
Went to my regular doc yesterday, and he was happy I'd already had x-rays done to rule out a break cos from the looks of my finger he'd have suspected one.
Here's a pic of my finger today. Add a bit of blue in your mind; the cam's still eating some of the colour.
I think it's fascinating how the blood is wandering off into various directions (lower finger joint: purple; upper segment of finger and knuckle: blue to purple to green)….: