Deprecated
: preg_replace(): The /e modifier is deprecated, use preg_replace_callback instead in
/www/htdocs/w0081e40/wp-includes/formatting.php
on line
75
As some of you may know, I've been suffering from an ear infection (with the added bonus of fluids behind the eardrum) since Friday evening.
As you may also know, the store I am working at turns into a fridge during winters (which may be how I got that ear infection in the first place).
Anyway, on Saturday stupid me dragged herself to work. Doctors were closed anyway. That invisible guy might as well stab his knife into my ear at work. Bad decision. Was a terrible day.
On Sunday I couldn't stand the pain anymore and drove to the hospital. The resident weekend "family doctor" there was really good. Noted my cold, and didn't only peer into both ears but also listened to my lungs, inspected my throat and took my temp (37.2°C, which he dubbed a "mildy elevated operating temperature").
He prescribed ear drops with an antibiotic and ibuprofen ("Are you allergic to Ibuprofen?" First doc ever to ask me that…).
Then I drove to the weekend emergency pharmacy for the region, which was in the same city.
Patients had to stand outside in front of a flap and crouch down slightly to be able to see the young lady manning the pharmacy.
After I had handed her my prescription she was gone for quite a while. She returned and beamed at me.
"I am sorry but we don't have your ear drops. We have similar ones but I'll have to call the hospital and ask."
Another long absence; another bright smile.
"Unfortunately I can't reach anyone there. I could give you your painkillers and order the ear drops. You can come pick them up on Monday then."
"I need those ear drops now; I am in pain. That's why I went to the weekend emergency doc at the hospital."
(You may or may not know that those kind of drops also have some effect on the pain. And of course they fight the infection - which is after all what causes the pain…)
*another bright smile*
"Well, we also have some over-the-counter-drops. I could give you those of course."
"Look, I've already tried those at a weekend in the distant past. They do not work. At all." (Which is no small wonder, as they don't contain antibiotics…)
Then she went and looked up some hotline that has the numbers of weekend emergency pharmacies to phone the closest one and ask if I can get my drops there, which - you might have guessed it - took her a while. She returned with the phone pressed to her ear. Whoever was on the other end wasn't really more helpful than her.
"Ah. No, that's us; I meant other pharmacies that are open today. Uh-huh. (*beam*) Which city's nearer for you, Faraway or Totallyfaraway?"
*speechless*
*blank stare*
*desperation*
"Look, I'm not gonna drive that far with that pain. Why don't you just give me my prescription back and I'll see if I can rouse our local pharmacist?"
*confused look*
All in all that exchange must have taken 20 minutes (out in the cold), and I had attracted a cue of two more patients, which I think is quite a lot for an emergency weekend service…
My local pharmacist was not on weekend service but answered my buzz at his door, let me into his warm pharmacy, assured me that was no problem at all, could give me all I needed and wished me a speedy recovery.
On Monday I first went to work, then soon to our new family doc. He said it didn't look dramatic, but I should take more of the painkillers if the pain was so bad and offered to give me a sick note till Friday.
Stupid me thought of the special 20% off thing at the end of the week and said so. Doc suggested taking off till Wednesday then.
So today was my first day back at work. As I still need the odd pain killer I decided that the cold air is not good for my ear. Stuffing cotton inside or pulling thick woolly hats over my ears was no option as those kind of infections apparently get worse if you cut off the air.
I have a thin t-shirt cloth like keep-hair-out-of-face bandana thing that I tried out but it clawed at my ear rings, and kept slipping upwards and keeping my ear canal uncovered. So I went for a stylish thin yellow shawl.
That went well until our boss arrived.
He declared that outfit inacceptable.
"Can't you find something else here in the store? Or at least tie it in a different way, I don't know, Rambo-style?!"
A part of me must have known it, as I had the bandana with me, too. My ear rings went, that thing came on and I spent the day looking like a moron and constantly pulling down that ugly thing.
I really need a new job, I think…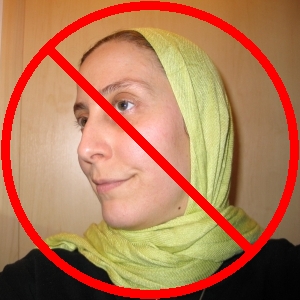 not allowed