Deprecated
: preg_replace(): The /e modifier is deprecated, use preg_replace_callback instead in
/www/htdocs/w0081e40/wp-includes/formatting.php
on line
75
Sunday, June 3rd, 2007
On Sunday I finally showed Caesar the vegetable market.
That way I had an interpreter and a bag carrier all in one person, hehe.
Apart from that, I seemed to be paying less for the vegetables than I had when I had been on my own. Not that it mattered much to me with Syria's tourist-friendly prices, but nevertheless…
When we had returned to the house, my guide took off until I was done cooking and eating. (Especially the cooking can take quite some time with me…)
He ran into Amer, who promised that the "cleaning lady" would come at 9:30 to fix the tv problems. When he hadn't shown up by 9:40 we thought of Saturday and left.
Shortly after that Caesar got a call from the dude, and we walked back. Fortunately it didn't take him very long to fix what had been wrong, whatever exactly that had been. Seemed to have been some problem with the wiring.
Soooo we shopped for some coke and a phone card and watched some tv.

What a boring day, eh? Here's a pic to darken brighten it up: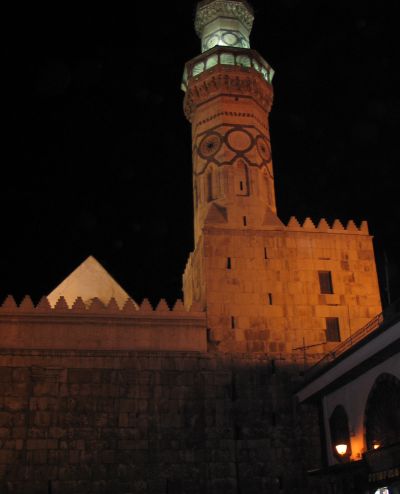 the Omayyad Mosque's Qad Bey minaret by night
.
Monday, June 4th, 2007
On Monday I changed another € 100 at an exchange office, then we bought some drinks and grabbed a taxi up to Jebel Qassioun (Mount Qassioun), which sits just north of Damascus.
Well…… actually…… before that I forgot to pocket my cell phone, realized it while we were just about to leave "my" house, hastened back up the stairs and around the corner leading to the first floor… and ran face first - smack! - into the metal stairs that are leading up to the next floor. Ouch…
The impact of bone on metal sounded rather loud to me. Come to think of it, I never asked Caesar if it had been as loud for him. He did enquire about my well-being from around the corner though, so he must've heard something.
At a huge roundabout our taxi driver got stopped and harassed a bit by the police. Can't they at least stop empty taxis for that…?
There we were, sitting in the back of the cab, with no fresh air getting inside, slowly starting to boil…. and wondering: "Should we get out and flag down a new taxi…?"
When I was just about to suggest that, our driver returned, and we continued the trip up the mountain.
Once there, we walked up and down a bit until we found some nice spots to gaze out over Damascus and snap a few photos from.
Caesar tch'ed me for taking the first picture below, but the view from the mountain is the view from the mountain, and that was the direct view down over the little wall we were standing behind. Besides, it is kind of a hobby, nay, duty of mine to take un-tourist pictures wherever I go. See the famed "Broom behind Pillar in Umayyad Palace" photo I took last year in Jordan.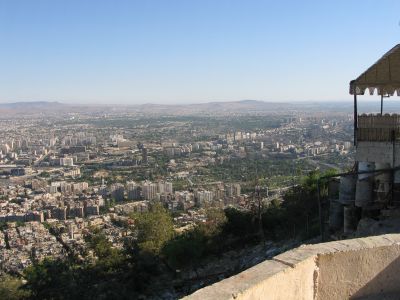 … the sprawling capital city of Syria.
A close-up of the roundabout our taxi got stopped at. (You can also spot it on the second panorama view of Damascus, not counting the first picture.

)
To the left of it one of the ever-present huge pictures of Bashar that can be found all over the city.
My - thankfully - not-black eye with the bruise from the impact neatly hiding in the eyebrow. I was equally thankful for not having suffered the mother of all headaches for my carelessness.
Back to the storyline.
Taking the above pictures - and a few more - exhausted us so much that we had to sit down on a bench and gaze out across the city while having an occasional sip of the soft drinks we had brought along.
It can get quite windy up there, and I was glad I had a hair ribbon in my pocket, or else I wouldn't have had much of an undisturbed view. Well, ok, I was habitually carrying that hair ribbon around, for the taxi rides.
Anyway, a lot of people come up Jebel Qassioun, so all of the buildings along the road at the top are cafés and suchlike of course. Not surprisingly there also were some pedlar kids around, trying to sell us chewing gum and the like and doing their best to entice Caesar into buying from them by wishing him that our relationship may be endlessly beautiful - or was it beautifully endless? - and similar things.
When we had sat and gazed enough we took a taxi back down again.
We walked around a bit in the modern city, then tried to find a restaurant. Eventually, we found a take-away one, even one that made excellent falafel sandwiches, which we ate in some park around the corner. The good food made me greedy, so we went back and got another falafel sandwich for me to eat and some falafel (about 20 for 25 SP1…) and hommus to take away.
We met up with B. and O. at an internet café because they had offered to take us or me along on one of their sight-seeing trips. But their plans for Tuesday and the following days were so vague that - despite their solemn promise that they'd put me on a bus back to Damascus should our ways part for some reason - I really didn't feel like travelling with and relying on them. Hell, even Caesar hardly knew those guys!
We made up some excuses and left again.
Were I blessed with Second Sight I think I'd still have made the same choice.
While browsing on the internet just now to research some facts I came across a picture that helped me locate a rather important landmark in one of the above pictures. You might still remember it.
See? I circled the Omayyad Mosque. My lodgings were aaallllll the way over there!

*beams at you*
.
Tuesday, June 5th, 2007
I breakfasted on the hommus and falafel and some bread, did some laundry and caught up on my diary. (Yes, I know, you're starting to curse the day I bought it, dear audience, as keeping that diary sure is making the posts about this year's holiday way longer than last year's. Mwahahahaha.)
Caesar had to take his brother, who had suffered a sunstroke, to the doctor and then go and fix a pc at work (he had taken some days off, but grrrr…), so he was naturally being rather late.
He had some of my lunch (peppers, zucchinis, cucumbers, tomatoes and onions - for those who are interested), then we went to the spice market, where I bought some curry and sweets.
On our way back we were overtaken by two garbage collectors2 who - instead of sweeping up and collecting the garbage - seemed to be racing one another. Ohhhhhhkay….
We dumped my purchases at the flat, then Caesar took me to another old city gate marking the outer border of Bab Touma (the quarter), the Eastern Gate or - in Arabic - Bab Sharqi.
For some unknown reason I only took pictures from outside of the old city wall, thus - this being the eastern gate after all - looking from east to west. Early evening was slowly approaching, which might explain some of the shadows…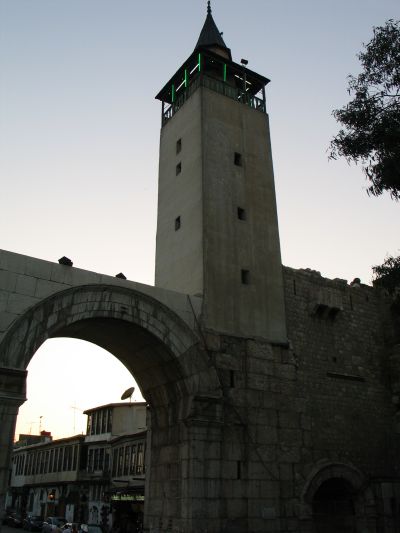 Bab Sharqi with 13th century minaret
To the left of the minaret you can see the main gate (for wagons or - these days - cars), through which you can spy a bit of the street beyond.
To the right is one of the two pedestrians' gates; a bit hard to make out much of it in this lighting though, my apologies.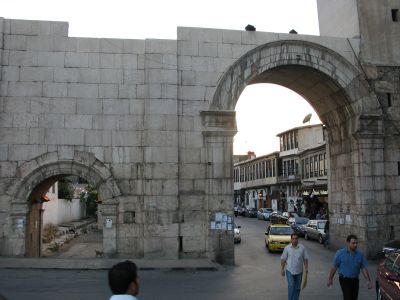 Bab Sharqi and view into Straight Street
On this picture you get a better view of the main gate and Straight Street (Via Recta, or Shari Mustaqim3, depending on which century you are currently being in)
To the left you can see one of the city's feral kittens demonstrating the correct use of the second pedestrians' gate.
My dear children! Let us pause a while, close our eyes, take a deep breath and reflect on the Bible.
In Acts 9:10-19 it says:
And there was a certain disciple at Damascus, named Ananias; and to him said the Lord in a vision, Ananias. And he said, Behold, I am here, Lord.
And the Lord said unto him, Arise, and go into the street which is called Straight, and enquire in the house of Judas for one called Saul, of Tarsus: for, behold, he prayeth,
And hath seen in a vision a man named Ananias coming in, and putting his hand on him, that he might receive his sight.
Then Ananias answered, Lord, I have heard by many of this man, how much evil he hath done to thy saints at Jerusalem:
And here he hath authority from the chief priests to bind all that call on thy name.
But the Lord said unto him, Go thy way: for he is a chosen vessel unto me, to bear my name before the Gentiles, and kings, and the children of Israel:
For I will shew him how great things he must suffer for my name's sake.
And Ananias went his way, and entered into the house; and putting his hands on him said, Brother Saul, the Lord, even Jesus, that appeared unto thee in the way as thou camest, hath sent me, that thou mightest receive thy sight, and be filled with the Holy Ghost.
And immediately there fell from his eyes as it had been scales: and he received sight forthwith, and arose, and was baptized.
And when he had received meat, he was strengthened. Then was Saul certain days with the disciples which were at Damascus.
The above mentioned "street which is called Straight" is indeed Straight Street. A very humbling thought concerning the history and age of the city of Damascus.
I did not go and seek the house of Judas. It is said that the church that had been built there to commemorate this important biblical event has long since been replaced by a small mosque.
Commemoration these days takes place in the alleged former cellar of St. Ananias' house - the Chapel of Ananias (more about that later).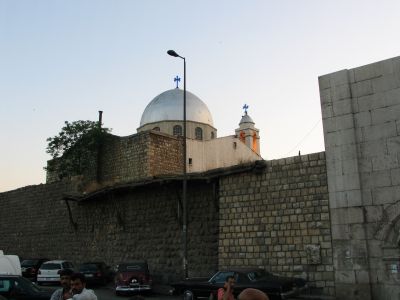 St. Sarkis Armenian Apostolic Church
Just a bit further to the left you can see the Armenian Apostolic Church peeking over the old city wall.
We kept on walking in that direction along the wall until a bird4 shat onto my head.

Then we headed back again and begged the use of the sink in their toilet off the people at a restaurant just outside the gate. Damn crapping animal.
Caesar claimed that it's lucky to get shat upon.

On the way home I bought some vegetables - including fresh okras - and a couple of bottles of coke and Fanta. I ended up carrying all the veggies while Caesar insisted on carrying the drinks. You could watch his arms getting longer and longer and starting to drag on the floor, poor man.
Later, we tried going to the closest internet café but their connection was down. They claimed it was an overall problem but another one around the corner was online. Voice chat was impossible though, as the volume and sound/connection quality was just too bad for that.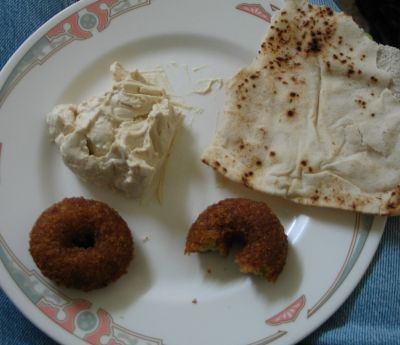 a late dinner of hommus, falafel & bread
.
Wednesday, June 6th, 2007
Caesar arrived surprisingly early. I was still lying on my bed, wrapped in my bathing towel, and reading while drying off, when he gave my phone a few rings and knocked at my door.


Aaaaaaaaaaaaaah! I jumped into my clothes and let him in.
After a quick - ahem - breakfast of warmed up leftovers from yesterday

we left the house.
We had not walked far yet when we had a very shocking experience.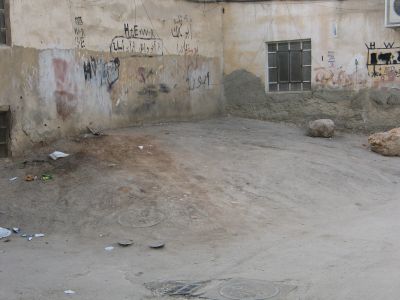 WTF! OMG!! The white car is gone!!!!!
The white car was gone.
It had been sitting on that little hill - day in, day out.
And then it was gone.
Anyway, we finally mailed off my postcards back home, then took a taxi to the National Museum.
The taxi driver apparently dropped us off at the backdoor of backdoors. Confused and slightly lost, we wandered around until we found an entrance, but that was a back entrance, and they sent us to the front entrance halfway around the building.
At the front entrance they sent us away as well to first get a ticket from the ticket booth at the front street entrance. Mwah.
Things would have been so much easier if the taxi had dropped us off at the right side of the building…
Well, at least we got to see a lot of the park belonging to the museum.
Unfortunately, it was forbidden to take any photos, and there seems to be no official English language website for the museum. The best I could find is this link with information and this one with at least a few pictures.
Some of the exhibits had no plaques at all, some only Arabic or Arabic and French ones. Most had English plaques as well though, although quite a few consisted of some funny English.
Caesar seemed to particularly be taken in by fertility goddesses (clutching their breasts) and statues and statuettes of naked men.

During our tour of the museum I urgently had to - ahem - powder my nose, for which task we got sent outside to a café on the grounds, behind which the toilets were hidden.
The…. down-to-earth kind of course. But at least they were clean. w00t.
We must've spent about three hours at the museum.
When we were done looking at the exhibits - and worrying the guards who occasionally came peering around the corners at us when we seemed to be having altogether too much fun - we bought a few more drinks for thirsty me and ambled back home.
Suddenly, we were starving, so I cooked the bamya with onion, tomato, zucchini, parsley and garlic. For a while I was sweating and trembling while preparing lunch. One of these days I shall have to have a few very strong words with my capricious blood pressure about it ganging up with the rest of my body against me and going into shock for no reason at all. At least this time it only was a very mild one, probably brought on by low blood sugar as well.
Caesar must've been really hungry, as he got himself a second helping. Well, so did I.
After lunch Caesar wandered into the kitchen, sadly (I guess) eyed the sink that was filled with pots and other stuff that had been needed for cooking and asked if he should just put his stuff in there as well. I said yes, but for some reason he washed his plate and fork anyway. Good boy.
We settled down in the living-room and watched some weird movie about a vitual actress. Very, very weird movie. It was called "S1m0ne".
Then it was soccer time.


Iraq versus North Korea in the second round of the qualifications for the 2008 Summer Olympics. They even won 1:0. Yay. I suppose.
From halftime on we mostly watched "Meet the Parents" on another channel though. A double yay for that.
After Caesar had left, I updated my diary in front of the tv until it was past midnight and "24″ had ended. I was tired, so I dragged myself downstairs to bed.
.
Thursday, June 7th, 2007
That morning Khalid called me to tell me - again - that he'd arrive on the 12th. He asked - again - when I'd leave Syria and then threatened to shoot me should he not like me.


Good old Khalid. You just gotta love his charm…
I immediately SMSed 13 and demanded that he protect me, but he just messaged something vague about Khalid being harmless back to me. No, really?
Baaaad Caesar was late again this day and arrived long after I had eaten my lunch.
We went and photocopied my passport for Amer in one of the side alleys of the Suq Al Hamadiyya.
Then we wandered around the city looking for travel agencies and book stores with English language books
The travel agencies there didn't seem to be much into Syrian historic places and more into trips to the seaside or other countries.
We did manage to buy tickets for a trip to Palmyra though at one of them. Ancient ruins in the desert - that sure sounded interesting.
Out of desperation I bought "The Da Vinci Code" in one of the bookstores we had entered.
A bigger store someone had pointed us to was already closed, so we decided to check that store out some other time when it was hopefully open.
Why out of desperation, you ask? Easy. The book had been praised just a bit too much. I mean, seriously, most stuff that gets such a lot of praise turns out to be rubbish.
In the case of this particular book though I was positively surprised.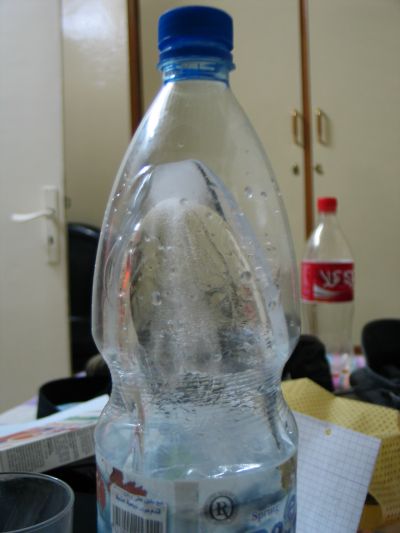 Hm, looks like someone left his water…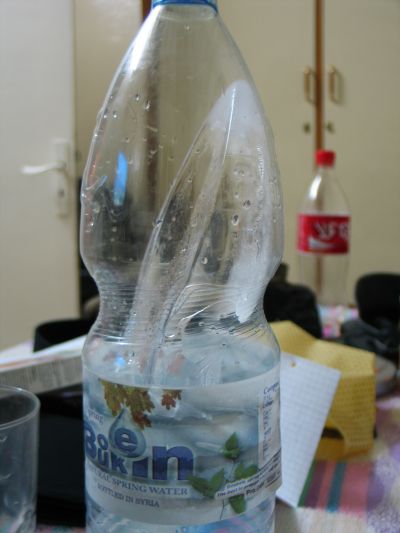 … in the freezer section of the fridge for too long…
It wasn't me!!!
.