Deprecated
: preg_replace(): The /e modifier is deprecated, use preg_replace_callback instead in
/www/htdocs/w0081e40/wp-includes/formatting.php
on line
75
Monday, May 28th, 2007
Thanks to the fabulous genes my father unkindly passed along to me, I was starving for most of the day.
Well, I should be thankful that I merely inherited a general tendency to travel nervousness and not the exact same thing he has.
That way I hadn't really been able to eat anything, as my stomach kept tying itself in knots. He can eat all right, but he soon goes and vomits it out again.
Better half unfed and hungry than bulimic and hungry…
The lady at the baggage check-in thought that it was rather unusual to
a) travel all alone and
b) to Syria.
Not a usual choice for a holiday. Hm. Maybe I should have given her my travel guide book. Loads of tourist things to do listed in there.
And anyway, there was a Caesar to meet.

The new safety regulations were still bearable. Only two people asking after liquids (or cosmetics) in your on-board luggage.
The guy at the x-ray thingy admonished me to next time only bring one jacket (one was my hoodie/zipped sweatshirt…) but thankfully that was only a joke. When he started to struggle with the clasp of one of the outer pockets of my knapsack I told him that those weren't working too well. He complained that I surely had caused that on purpose, just to annoy him. I agreed and said I had 'specially smashed them with a hammer.
While we were boarding Türk Hava Yolları flight number 1528 and settling down in our seats some mildly annoying folk music was being played over the speakers.
In self-defense (most of the senses not involved with reading shut down when I'm absorbed in a book) I started reading "Fragile Things" by Neil Gaiman which I had bought at the airport.
My stomach seemed to be unknotting itself somewhat, so I was starting to look forward to the on-board meal.
Take-off was about 20 minutes late.
The food was………. adequate. A mixed salad of (German aka curley leaf) parsley, some red leaves, rucola, spinach (?), and something dreadful. Couldn't bring myself to finish it.
The main dish consisted of rice with corn and some dreadful spice, rubbery carrots, spinach and red and yellow peppers.
As an aside I had a small wholemeal…… bun (Brötchen!), Becel diet margerine (no, thanks) and the brand of breadspread that I usually buy myself, only I'd have never picked the "Olivera" flavour of my own free will.
Dessert was a peeled, sliced orange. Ever tried eating that with a fork? You should try it; it's fun.
Oh, and I had a coke.
My stomach had quit its games for the moment, but still I could hardly eat up, so the meal was adequate indeed.
Remember my romantic babbling about what Amman looked like from above? Well, it seems that every bigger city looks breathtakingly beautiful if seen from above by night. İstanbul as well looked as if someone had scattered a big handful of jewels. Only in this case not across some hills but over a flattish surface.
Sometimes I think airport personel exist to make people's lives miserable - at least the ones responsible for flight plans (or for filing lost luggage reports…). At Atatürk International Airport in İstanbul they had changed the gate for my flight to Damascus. Oh, well.
After having located the gate I asked my way to an eatery that accepted foreign currency. Service has its price, it seems, so I paid a staggering 3.64 Euros (around 4.85 US Dollars at that time) for a generously sized plastic cup of coke. I was a bit thirsty, and I needed something to wash my aspirins down with, as I was having a splitting headache.
To make the day (or rather evening) brighter I was suspecting that I was starting to smell like a skunk. Changing from a chilly plane to a warm one (during the landing) and an even warmer airport without the opportunity to throw off some clothes before finally staggering into the toilet is not my thing - nor is washing at a sink in a public toilet without any deodorant around anyway. That was a long and totally dreadful (content-wise) sentence.
Well, it can't have been so bad, actually.
Back at the gate a boy sat down on my left with his little sister on his lap. After absent-mindedly kicking me a few times (she was fidgeting around on her brother's lap) the little girl started telling me stuff. In Arabic. And didn't find it the least odd that I was babbling back incomprehensible gibberish (English).
She pointed at my festival bands, pulled at my left sleeve, fingered my tattoo…. all the while talking with me.
Her brother spoke a bit of English and told me that his sister didn't understand English (no, really?).
I also learned that they're Iraqi.
After a while they got up and went over to the rest of the family again, the boy telling them excitedly about his chat with the foreign tourist. He kindly started his account in English, so I could follow some of it.
Food on board the second Türk Hava Yolları flight was…… hm.
It was a slice of something truly dreadful on a salad leaf. I didn't even taste it, as the taste it had transferred onto the pepper slices was more than enough to nip any curiosity in the bud. There was also a slice of tomato and a few slices of grilled eggplant.
Dessert was melon and orange.
Furthermore every passenger got a card with about the same formalities I had to fill out on my visa application form already.
Later at customs (much, much later; long, slow queues), that card was to be handed over to a guy who stamped it with hardly a glance and gave it back to me while handing my passport to the other guy at the pc. That other guy entered some stuff (probably along the lines of "Ugh, what a scary mug shot; this woman surely is a terrorist and needs watching"), then he handed it back to the first guy to stamp.
Even so the guy standing right beside the booth needed to look at my stamped visa before indicating that I could move on and wishing me a pleasant stay.
A guy a bit further on inquired if I was from Turkey. I told him I had come in via Turkey but was from Germany. He also wished me a pleasant stay.
Thanks to the slow procedures my luggage had long arrived, hooray!
For a while now Caesar had been making fun of my preferring written chats over voice chats and joked that we'd need pen and paper to converse on this holiday of mine.
So…. I unpacked the three notes I had prepared for him…
Hi!
It's so good to finally meet and talk in person!
:p
… grabbed my belongings and trundled to the exit.
I tried shoving the notes into Caesar's face but he was too distracted by my arrival to actually read them there and then.
He did ask to see them again in the taxi though and was sufficiently amused.
We got off at the square in front of Bab Touma (the gate, not the part of the Old City - although both pretty much amounts to the same). Caesar let Amer, the guy renting me my lodgings, know we had arrived, and he came to pick us up a while later. He tried to wrestle my luggage from Caesar, but Caesar hung on to it.
Men.
Arab men.
*rolls eyes*
I think that he regretted the hanging on rather soon while we were following Amer through the maze to the house.
It was the middle of the night, I was tired, and it felt like we endlessly hurried through small streets, taking random, confusing turns. Soon I'd have been unable to find my way back to the square.
All the while Amer was making small talk with the both of us and pointing out points of interest like his own house (and I can't shake the feeling he made a detour just to be able to pass it…) - as if I at that point had any clue of where I was….
Finally we arrived at a white metal door, which he unlocked. He ushered us in, showed us the rooms and the roof, handed over the key and left. Caesar organized something to drink for me, then left as well.
Tesbah ala khair.
.
Tuesday, May 29th,2007
My lodgings were in the Old City, the original Damascus, so to speak.
That part of town could be out of some old movie, you know, the kind in which the hero is being chased through some quaint Arabian city and finally loses his pursuers in the maze of small streets. Totally cliché.
A few of the streets are even too small for a car to pass through.
The house… sure has seen better days. When you entered the building there was an open (knocked out?) doorway immidiately to the right which led into some kind of store/junk room. It also smelled a bit musky.
A couple of metal steps led up to the first floor of the building which contained the bathroom and the bedroom. The bathroom could have been a bit nicer.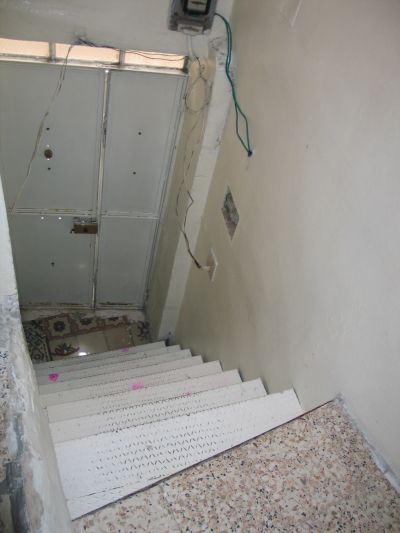 stairs up to first floor (complete with Alien blood stains)
And, no, I did not electrocute myself while using the water heater and the shower…

A steep open metal staircase (Did I mention that I was afraid of heights?) led to the second floor containing the kitchen and air-conditioned living-room.
Please note the sink on the wall for later reference.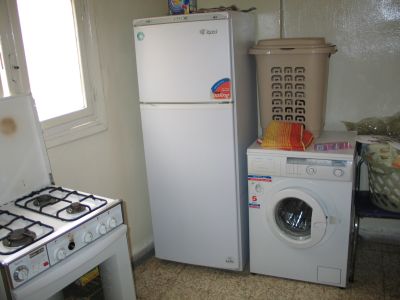 stove, fridge & washing machine
The cable you can see in the background belongs to the air conditioning by the way.
The bottle in this picture is a mysterious water bottle which had been left behind by some former resident of the house…
Even steeper than the stairs was this metal ladder that led up to the roof and that you could only use if you closed the toddler safety gate at the top of the stairs, as that gate would otherwise peek out between two of the rungs and trip you up.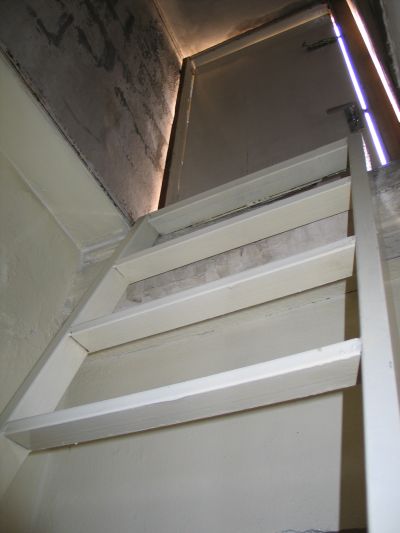 The aliens are coming to get me, aargh!!!!!
The roof was searing hot and for some reason the light there also seemed brighter than in the street. It was the ideal place to dry your washing. I always left it for about two hours, but I think it could have been dry even earlier.
The sofa…. might have been a cool idea at some point, but today it's certainly not a good place to sit down in. Not that this obvious fact kept Caesar from sitting down anyway - in a rising cloud of dust….

I wasn't living alone in my lodgings though. Maybe it had to do with Caesar's persistently referring to the place as a mini-house, I don't know. Fact is, I was sharing it with a small colony of mini-ants, most of which were dwelling in the kitchen. Yes, mini-ants. They were totally pale and spindly.
I already killed a few of them in the first night. And a mosquito.
My first night/morning was rather dreadful. I tend to sleep through basically anything, but a combination of tiring journey and new surroundings seemed to be keeping my sleep light. There was a constant rush of people and cars outside which woke me up way too often during the course of the morning. Evil people. They should have been flogged.
While I was jotting down notes on the above, someone outside seemed to be giving a guided tour in French.
Around noon Caesar arrived at the house. He had felt compelled to do a little shopping for his honoured guest, the crazy cute little man and trundled in laden with oil, veggies and soap.
We headed out of the maze going past the Omayyad Mosque. I wish people would make up their mind about how to spell that period in English. (The most official Jordanian web pages spell it Umayyad.) Crazy Arabs.
Anyway, on the other side of the square in front of the main entrance of the mosque stands a lonesome Roman arch - all that has been left of the Temple of Jupiter. This arch now makes an impressive entrance to the Suq Al Hamadiyya.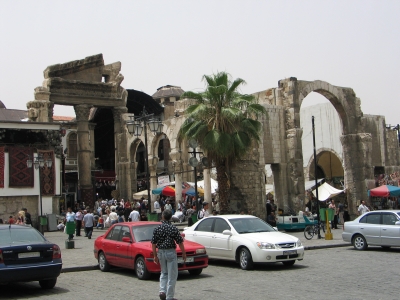 Roman arch at the Suq Al Hamadiyya
After having taken the above picture (and one of Caesar

) we went over there and entered what at first glance strikes one as a rather small bazar (or more correctly suq), a huge roofed passage lined with shops running from this arch at the one end to the Citadel at the other. But the suq is not restricted to that passage; every once in a while streets branch off on both sides that then either peter out and turn into regular city streets (mostly the case on the left hand side if you're walking from the mosque to the Citadel) or intertwine with each other in a small labyrinth (on the right hand side).
You can buy just about anything from icecream over shoes to head scarves.
And ugly socks.
It seems that everywhere several vendors are gathered in one place, there's always one or two waving ugly socks at you. I came to the conclusion that this must be some kind of suq rule.
After having traipsed around a bit we went to a Commercial Bank of Syria branch to exchange the US Dollars I had brought because some hotels only take Dollars. Amer was ok with either 400$ or 20,000SP (Syrian Pounds), so I figured I might as well go and get the Pounds myself and make a small win. According to their receipt I should have gotten 20,180SP. The cashier gave me 20,000. When Caesar went back to complain he got another 150.
Cheating Commercial Bank of Syria bastard.


Apart from this annoyance it was baking hot inside the bank. I must have lost 5kg in sweat while counting and recounting my money.
But they had some nice potted plants on their stairs (sorry, no pics).
For lunch I had some "special" vegan hommus at a fast food joint, which looked frighteningly creamy but didn't contain any milk products.
I am still seriously pouting at Caesar and the waiter for finding it amusing that I was being afraid of the food. Buh, evil Arabs.
On the road in front of the Parliament building a group of people were chanting "Bil rooh, bil dem, nifdeek ya Bashar" (Our blood, our souls, we sacrifice for you, oh, Bashar), the same thing Caesar said people used to chant for Saddam, only here for Bashar of course.
Unfortunately they were done doing that (sounded impressive) by the time I had my cam out. But I filmed a bit of song and dance (from afar). Enjoy.
Amazing how all those people spontaneously got together to celebrate Bashar's re-election…
On our way back to the flat someone shouted after us from a café. It was Amer, who invited us to tea and coffee. He was sitting there with an Australian woman whom we briefly chatted with before she took off again. I guess much to Caesar's annoyance Amer used the opportunity to show off a bit with his German skills, but we soon switched back to English.
Afterwards he took us over to his shop, where I gave him the money for the rent. Just because I am German, and because he knows it's done there that way, he thought I should get a receipt. Which he expected me to write.

Ok, hehe.
We continued on to the flat. In one of the small streets a girl asked my name, and I gave my usual "My name is (Melantrys), and what is yours?" response. She gave her name, then demanded to know Caesar's. I was about to tell her, starting with calling it a boring name compared to mine, when the lying bugger unashamedly told her that his name was Francesco. Tch.
Amer had told us to expect a cleaning lady.
What we actually got was a plumber who put the mat/towel from in front of the bathroom (flakes, the same all around the world…) into the sink on the corridor wall opposite the bathroom. (Remember the sink from the photo earlier?) Then he - basically - tore the tap (that hadn't been yielding any water) out of the wall, helping along this slow and laborious process by hammering out chunks of plaster. Hence the towel, so the sink wouldn't get blocked. When he was done he threw the liberated tap into the sink as well.
Then some kind of problem seemed to arise and he and his helper/apprentice/winner of the Against All Common Sense Award left - but not before the young man had given in to the urge to lift the towel, shake the old tap and plaster into the sink and throw the towel on top of the mess. The burning question that he left me and Caesar with was: WHY?????
A while later another guy with a big wrench arrived who fixed the tap in no time.
He was accompanied by an associate of Amer who seemed to be the announced cleaning "lady". The guy made a token effort of tidying up a bit in the kitchen which - thankfully - included heaping the mysterious bowls of food that had been in the fridge onto a tray and handing that tray to a boy who had come in bringing a bag of cement.
After stashing the cement bag under the kitchen sink the cleaning "lady" left with the promise to come back to fix the satellite problem (the tv kept saying that it was getting no signal, and everything was plugged in and turned on).
We waited and waited, and no sign of the cleaning lady/satellite repair man.
More as a joke than for real I suggested arm wrestling to keep us entertained. Caesar agreed though.
After a loss he blamed it on the moving table cloth, removed it and got himself one draw and another loss.
The poor man.
The poor Arab man.
*laughs a bit in a good-natured way*
At 6 pm we decided we had waited for long enough and headed out again.
I still didn't want to buy ugly socks, thank you.
We saw yet more festivities to celebrate my arrival at Damascus (idea © Caesar), er, the outcome of the elections.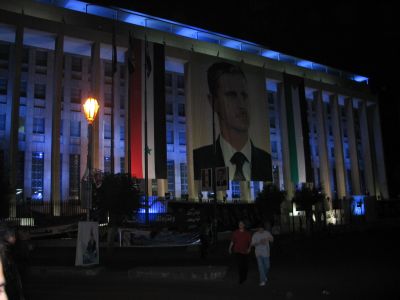 Bashar on yet another building
After the fireworks that ended the party, or rather during the fireworks and trying to escape the noise, we went off in search of a falafel place. It was a longish search but in the end we were directed to one eatery where I got a falafel sandwich with heart-shaped falafels.
Damascus wasn't just happy I was there, it was also in love with me.

Wow.
We walked for a bit until Caesar admitted that he was tired and worn out and wanted home. (The poor man had been working all of yesterday after all, then picked me up at the airport in the middle of the night.) So home we went.
Caesar checked for monsters under the bed and stayed a bit, read my travel diary, had his picture taken and whatnot.
After he had left I headed into my bedroom where I eventually discovered that the ant colony consisted of quite a large number of the spindly ones and a few normal sized ones with a big head (like the one I took a picture of in Amman, together with the Red-Arsed Fly) and not just a few.
Their trail erupted from one of my jacket's button holes, went across the jacket, a piece of the sofa, my jeans leg and down the sofa and in the direction of the door. Furthermore everything I lifted off the sofa (my travelling bag, the jacket, the jeans, the bag with the electronics…) had ants crawling underneath it.
I'm not much of an ants expert but these at least seemed to be mainly night active.
Yes, I squashed a lot of them, but far from all.
The new tap had ceased working by the way…
I undressed and crawled into bed. It wasn't all that late (I think?) but still I found myself unable to continue the diary.
So instead I sent Caesar an SMS about the ants (which he apparently never got) and SMSs to my friends C. and A. Sadly I dozed off while writing the last one, so I merely managed to send it at some point, while totally forgetting about the smiley I had wanted to include and my name. Fortunately A. is a clever girl and SMSed me on my German number the next day, asking where I was roaming around again.
Unfortunately I was out of credits, so an answer had to wait.
Whoops, I'm running ahead of the narrative…
After I had managed to send off the half completed SMS, switch off the lights and crawl back into bed, someone called me to tell me he had arrived home safely. Which puzzled half asleep me quite a bit as it felt like he had left a very long time ago. Yet I managed to mumble something about ants and poison before hanging up and falling asleep for good.