Deprecated
: preg_replace(): The /e modifier is deprecated, use preg_replace_callback instead in
/www/htdocs/w0081e40/wp-includes/formatting.php
on line
75
Yes, yes, yes, I know this comes a bit late, but better late than never.

I am determined to finish this before the start of my next holiday and promise that I'll try to be faster in posting about that trip.

David, I am sorry; this post contains a lot of photos and will proabably take a while to load.
.
Sunday, August 20th
On Sunday aNarki picked me up from the hotel and took me to his parents' place where he intended to get some of his work done.
I guess me huffing down his back (figuratively speaking) was distracting enough for him to give up on that thought pretty soon. Er, sorry?
Sooooo we headed out to Gardens Street, where we successfully roamed the Philadelphia Bookshop. And this time I bought books ("Marker" by Robin Cook and "The Vanished Man" and some short stories, "Twisted", by Jeffery Deaver), not marbles and ugly pottery!
While I was paying up, the lady at the register complimented me on the tattoo on my arm

and told us that she had recently been to America and had almost got one done herself.
Drunk with delight (well, me at least…) at finally having found some books we stumbled out again into the sunny day, and aNarki informed the V-Knight of our whereabouts.
Then we stood in the sun and waited for the young man.
And waited. And waited…
After a while venerable me slumped down onto the pavement, announcing to the world in general that I didn't care what people'd be thinking; my back was killing me.
Then we waited some more.

After the young man finally had arrived, we (aimlessly?) ambled about a bit, then ambled through the University Bookshop, where I aspied a weird book by Stephen King, called "The Colorado Kid", which I bought, of course.
Stopped to eat the usual falafel and stuff.
The guys took me to their favourite CD store whose owner seemed to be disappointed that I don't share aNarki's love for Old School metal stuff. Unfortunately that shop is situated underground in some passage with a lot of shops. It was a normal warm day, and the air was not really fresh down there. I could fight it off for some time by inconspicuously cozying up the the fan, but then my old trouble made itself felt, and I had to get out into the fresh air in order not to faint. Bad, bad blood pressure….
We sat on a ledge for quite a long time, cradling soft drinks, until aNarki went back down to collect the shopping. A while after that we got moving again.
For a sense of variety we went to another mall that evening, the Amman Mall, and almost stayed until they kicked us out.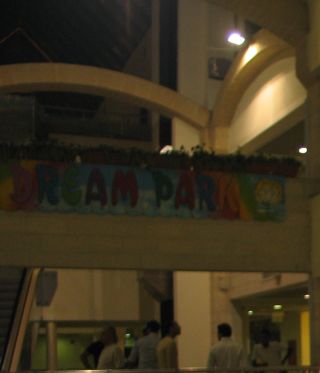 The view I had over aNarki's and the V-Knight's shoulders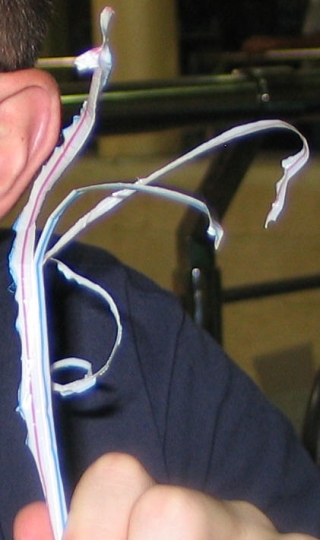 aNarki's ear and what he did to my straw…
Well, they did dim the lights, so we figured we'd better leave…

As our idea of late night seemed to differ wildly from that of the people running Amman Mall aNarki and me went to his parents' place for a bit of internetting after parting with the V-Knight.
aNarki's parents returned from the pre-wedding party of a relative, laden with food, and fed me Iraqi bread and Iraqi baklava.
When I mentioned this in my chat with my Turkish/Kurdish/Martian colleague A. he ordered some Jordanian baklava. Greedy colleague.

I guess at some point I returned to the hotel.
.
Monday, August 21st
On Monday my travel guide/entertainer/host joined his parents in attending the actual wedding of said relative.
Not willing to be called a bad host for "deserting" me, aNarki had arranged for Attawie and me to have a girls' day out.
Attawie picked me up at my hotel, and we took a taxi to Downtown and hence the Roman Amphitheatre.
The taxi driver was being overly helpful and even gave Attawie his number, so that we could call him to pick us up again when we were done.
Then - us being dumb little women - he tried to take a lot more money for the drive than was his due. I didn't understand a word of course, but Attawie sounded rather…. vehement.


When the idiot had taken off with a more reasonable amount of money in his pockets than what he had demanded we agreed that we'd take any taxi back but his.
At the entrance they didn't just check the tickets we had bought at the booth across from it but also told us we could not bring the drinks we had just bought and opened onto the premises with us. A guide generously made an exception and tried to suck up to us. We got rid of him - for the moment - and went into the Museum of Popular Tradition and the Folklore Museum which are situated on opposite sides of the theatre ground and are frankly absolutely boring.
Outside again we climbed the steps all the way to the top, which already mildly set us to simmering in the midday heat.
From there we aspied some more ruins on top of the hill opposite the theatre: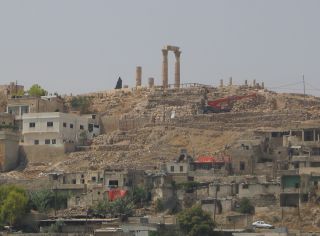 Jabal al-Qala'a or Citadel Hill
Downstairs again we asked the sticky guide what that was, and he said it was the Citadel, and that he'd give us a guided tour for only 10 JD. He had just talked to that Australian couple over there and offered them the tour for 20 JD, so we should be discreet about it.
Yeah, and I am the Queen of Saba.
We declined, accepted his card and fled the premises.
Attawie still had the water she had brought along, and ever thirsty me stocked up on soft drinks. Then we set out in the direction we figured the ruins must lie. The directions we asked some way away from the theatre (to avoid lurking guides) confirmed the guess.
The street was already rather steep, and when we finally reached the spot where the hill started for real - read: the only way onwards was up some stairs - I realized that unfit me would have to admit that she was close to collapsing and needed a rest. Just when I was about to open my mouth to do that Attawie sank down in a spot of shade halfway up the steps.

Either the lady is as unfit as me, or I am not quite as unfit - yet - as I thought.

Then the stairs ended and only pure hill remained for us to climb.
As we didn't try out the above construction, our search for an easy way up drove us more and more to the left. Which was good as it later turned out. Very good indeed.
Finally we reached the top and found the ruins we had seen from across and below.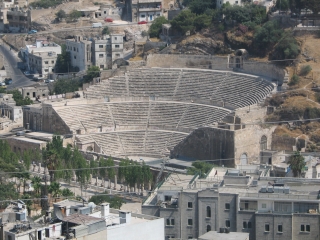 look back at amphitheatre down in the valley

look across a comparatively small section of Amman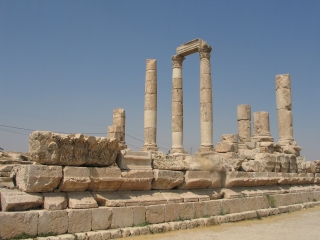 the columns that had lured us to the hill
We repeatedly contacted BT - who Attawie said is a fan of ancient ruins as well - to lure him to where we were, say good-bye and give him a few photo CDs. He tried to make it, but sadly couldn't squeeze it into his hectic "finally preparing to leave for the US" schedule. Well, it was a pity, but what can you do? If the time is too short, it is too short.
The whole top of the hill contains ancient ruins. Unfortunately a lot is really mere ruins and has been reduced to rubble, i.e. the low remains of a few walls. We looked at everything anyway.
I so wanted to take pictures of lizards, but the buggers were just too fast…
At one point we walked around a corner and into a "room" and were hit by a very nice smell that literally filled up all available space. I could have stayed there the whole day, just breathing…
Here's the cause:
Determined to explore everything there was to explore, we peered into several (litter-strewn…) wells and the occasional unexplained hole (litter-strewn…) in the ground.
From one of these a cave seemed to lead off, but it was impossible to see into it. Attawie jokingly suggested I should climb into the hole. Well, people who know me better wouldn't suggest a thing like that if they didn't mean it…


I threw a stone into the vegetation growing at the bottom of the hole as hard as I could, and as it landed with a satisfying "thunk" I carefully lowered myself into the hole.
The red arrow shows where I stood.
Attawie "kindly" took this terrible picture of me while thinking about whom to call for a rescue mission.

I pointed my camera into the mouth of the cave and took several pictures. Ok, the climb was a nice little "adventure" (and I am sure Attawie could amaze loads of people by telling them about the crazy German blogger lady that climbs into suspicious holes in the ground…

), but it turned out it hadn't really been worth the effort, as all there was to see was rubble, cobwebs and…. right, rubbish.
The most well preserved ruin (that has also been rebuilt in places) is the Umayyad Palace, which looks a bit like churches tend to look in Muslim countries. (*is thinking of the Ayasofya or Hagia Sophia in İstanbul for instance*)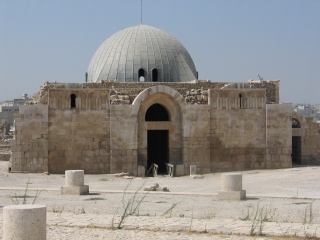 Al Qasr - The (Umayyad) Palace
Inside we saw a couple of women from Iran on a sightseeing tour as well. A real ladies' day, hehe.

In a small room off the main hall we saw what I tend to see as the real tourist attractions: the little everyday things that you forget to expect when being on holiday. Or the funny "flaws". Like this one:
Like I said, the lizards were too fast for me but Attawie spotted a weird insect sitting on the wall above an arch under which we had to pass. Any suggestions what kind of insect this might be?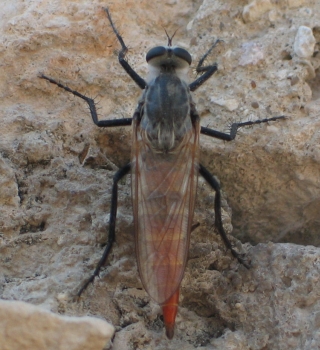 الذبابة ذات الطيز الأحمر or Red-Arsed Fly
Back to the regular tourist sights.


In one corner a piece of floor was fenced off to protect the inlaid work on the floor that was in the process of being unearthed.
A little way downhill lies the Jordan Archeological Museum, which is a really good museum - not like the ones at the theatre. After having been severely fried by the early afternoon sun, we entered this museum at around half past four.
Unfortunately it is forbidden to take pictures there.


At the entrance we realized our good fortune concerning our climb up the hill. Entry to the museum is included in the fee payable at the ticket booth further down the path. As we were past the booth everyone assumed of course that we had paid, and didn't ask us to produce the tickets.


And seeing how badly the ruins were littered with no-one bothering to clean up that mess I refuse to have a bad conscience about it. We didn't litter, so the free entry was our just reward.


The time in the comparatively cool museum was a nice rest - quite apart from the interesting exhibits - but still I was rather dead and melting. Attawie looked a lot fresher than me, for which she should be spanked.
After leaving the museum we climbed down the hill again and caught a cab back to my hotel, where Attawie lounged in my living room

while I had a quick shower.
She accompanied me for a quick shopping trip for some necessities, then we went to Mecca Mall for a late lunch (and to cash 2 more of my traveller cheques).
Our conversation wound down a couple of notches as Attawie was tired and I was developing a splitting headache.
So at around 7 pm already we lumbered back to the crossroads close to my hotel where we tried to get a taxi. An older man with a towel on his head

(who either lives or works there; I saw him quite often at that corner) shooed us a bit further down the road, saying something about that being a better spot. Then he stopped a taxi and called us over. Attawie got in and drove home; I lumbered back to my hotel and collapsed onto my bed.