Thursday, May 24th, 2007
Deprecated
: preg_replace(): The /e modifier is deprecated, use preg_replace_callback instead in
/www/htdocs/w0081e40/wp-includes/formatting.php
on line
75
Tuesday, August 22nd
Hhhhhhm, it seems nothing much happened on this day, at least according to my notes. Although someone else might beg to differ…
For lunch I tried the vegan Indian meal at the Mecca Mall food court to have some variety. I soon wished I hadn't. The food was rather hot (as in spicy) but still not hot enough to cover the taste. The taste of….. yucky fat meat? Now, even if that was just some odd aroma and not for real, it pretty much grossed me out.
In the evening we went out with the V-Knight again. While we were sitting at a falafel place aNarki got an SMS he had been waiting for all day: his lady's family had ok'ed him as their future son-in-law.
Drunk with joy and relief he invited the V-Knight for dinner and me for drinks….. at Burger King.

Before going back to the hotel I got the usual private "internet café" service at aNarki's family's place and took a few pics of his mom's cat R. giving me the evil eye.
.
Wednesday, August 23rd
After a nourishing breakfast of…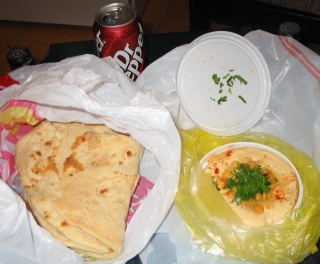 … hommus, Iraqi bread and Dr Pepper…
… the day could begin.
Extensive research had shown that decent pubs were rumoured to exist in Swefiya. Something to look forward to concerning the evening.

Having learned from yesterday's experience I rather ordered the Chinese lunch at Mecca Mall. Hhhhhhm, just rice and veggies, nicely flavoured, no weird spices…
Morbid Smile was hoping to catch me after all, now that she was going back to Amman again for her flight to the US. She was told that she'd make the trip next week, and would get the exact schedule tomorrow.
Next week would have included Saturday and Sunday already of course…
But Fate did not smile upon the chance of us meeting each other, so we were hoping in vain.
The evening took aNarki and me through Fresh Waffles Street and to an Irish Pub. A real pub. With no attentive women hovering around any men. Yay!
And what a pub that was!
The interior was typical Irish Pub design. Dark wood everywhere, and Ireland-related memorabilia on the walls. I'll show you the toilets later…


The drinks prices were as high as in the… non-pubs… we went to before, but at least they served alcohol for alcohol's sake.
Unfortunately they did not have Snakebite on their menu, so I courageously ordered a Tequila Sunrise (You're asking what's courageous about that? Well, the last time I had Tequila Sunrise was at a private party where I accidentally inhaled some of it and almost choked…), which was really nice (the drink at the pub was nice, not me almost choking to death at that party…. although it's a funny story nevertheless…).
I ordered a second one which was nice as well, but contained…. hm, maybe the triple amount of tequila.


When I had finished that one I felt like one more drink, but if they had brought me another 'Sunrise like the last one aNarki would have had to carry me back to my hotel. So I ordered a pineapple Bacardi Breezer - a flavour we don't have over in Germany.


Tipsy to exactly the right level we left the Pub after that one. That is, we left the pub, but it was me being tipsy. Poor aNarki.

Did I mention the toilets?!?!

Hm? What did you say? Oh, you're still wondering about the Fresh Waffles Street? Well, that one street we had to walk through was filled with the smell of freshly baked waffles in one place. aNarki told me it always smells like that there. As there is no restaurant or café in the vicinity there must be a private household continuously busy with baking waffles…?
I did mention the toilets, didn't I?
.
Thursday, August 24th
I don't quite recall what it was that kept my personal entertainer away from me; I think he had to finish writing that report of his.
After having spent enough time inside of my apartment and staring at the tv to get thoroughly bored out of my mind I decided to head out to Mecca Mall. I did some window shopping and also some real shopping at Al-Afghani. After all, I had promised people to bring souvenirs.
Laden with half a dozen sand bottles and other trinkets I hastily slumped down at one of the rare free tables with a coke I had bought.
While I was sitting there, kicking my heels, I witnessed something I found rather fascinating.
Two men had repeatedly passed by on their (fruitless) search for a place to sit. Finally one of them already went and got their lunch, in the hopes of finding a table by the time the food was done.
They didn't of course. It was a very busy time of day apparently. I had to repeatedly shoo people away who wanted to nick my second chair. And I just knew that if I gave it away we wouldn't manage to get a new one when aNarki arrived.
The two men talked to one of the guys sweeping the floors. He disappeared and soon appeared with a table, which he squeezed between two others. A while after that he brought two chairs as well. One of the men gave him some money. As they were a couple of meters away and the Jordanian Dinar was not that familiar to me after the time I spent in Amman, I can only definitely say that the note was blue, but not whether it was a 10 or a 20 Dinar note. Still, even for 10 the table and chairs would have been way too expensive…
When aNarki told me he was on his way I SMSed him and told him where I was sitting and asked him to already order the Chinese meal for me in passing. I was starting to get a bit hungry, but I wasn't going to get up and leave the table of course… Naturally, my enthusiastic host did that for me.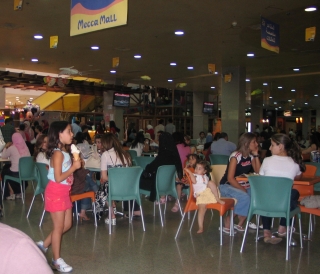 some random people at Mecca Mall
Afterwards we did the usual internetting.
Later we went out with the V-Knight again. We spent some time in Wakalat Street, and ended the evening with a nourishing meal at Burger King.
Apparently one of the guests - or possibly an employee, considering it was still there when we left again - had arrived on a rather… simplistic means of transportation.
Well, actually I am fairly sure the donkey had nothing to do with the Burger King at all…


I took this photo because of the all-round absurdity of the picture: the donkey tied to a post and standing right behind the entrance sign.
We did pity the poor animal though, having to stand there for hours, with nothing to do but to stare at the wall.

.
Friday, August 25th
As it was Friday, it was restaurant time again with the family. At the excellent falafel place close to aNarki's parents' home of course. *drools*
Afterwards we went to aNarki's parents' place.
I have no clue why we started talking about German movies. Anyway, that topic always makes me state that the only really good German movie to speak of is "Das Experiment" (The Experiment), not least of all because the scenario is all too likely. Up until then I wasn't even aware that the plot of the movie was loosely based on a real experiment. Reading up on it sure kept us busy for a time…
When it was time for dinner we bravely entered the packed Mecca Mall food court (it was Friday….)
Of course there were no tables/seats available. Well, there were, but only the ones reserved for certain restaurants and none of those for general use.
aNarki sneakily bought us the right to sit at a table belonging to a place selling fries and similar by buying a round of coke. (He assured me it was better not to eat there anyway, as people eating there tend to feel… unwell… later on.) Good thing I was eating the Chinese meal again.

When I was done eating we headed up to the cinema and watched The Sentinel.
Not necessarily a DVD I'd buy, but it was sure entertaining enough for an evening out at the movies.

As most of the afternoon had been devoted to researching disturbing experiments I had some late night internet time, catching up on emails, blogs, etc, before heading back to the hotel.
.
Saturday, August 26th
The fact that my holiday would soon be over hit me very hard that day. My first scribbled note for Saturday is "don't wanna go home".
aNarki was expecting his professor to call, and thus didn't really wish to go anywhere. As the call just didn't come, we went out for a late lunch at Mecca Mall after all.
Of course he called shortly after my food was done.

Murphy's Law.
My host insisted that I take my time and eat up but I still did my best to hurry.
It was still rather early and I had no real plan what to do, so aNarki took me home with him, picked up his papers and left me to use their comp with his parents hovering in the background and making sure I didn't starve/die of thirst/get bored from lack of company. I was catching up on stuff on the net, like I said, still aNarki's mom asked me at one point if it was all right if she left me alone for a while to go and pray. Arabs. Totally crazy über-hosts.


Besides, I wasn't alone; I had a grumpy cat to keep me company…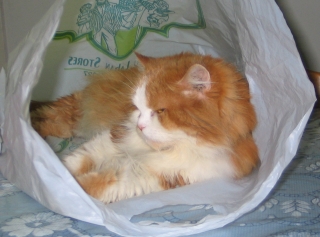 R., being annoyed at me taking photos
At around 8 I decided to go back to my hotel and rest a bit. Of course aNarki was done with his meeting with the professor when I arrived there. Figures. He also remembered his attempt at playing my personal bodyguard for the duration of my stay in Amman and almost got a heart attack upon hearing that I had walked back to the hotel on my own. In the dark. Oh dear. All 200m of the way. Goodness.


Well, he had to see his grandparents anyway, so I stayed at the hotel and read a bit in one of my new books. (*laughs and waves at Lynnette* Yes, I can even sit in a foreign country and stick my nose into a book.

)
It was around midnight when aNarki finally returned, but as I was still awake he insisted on taking me out for a late dinner at MacDonalds.
When we returned from there, we found a dead, er, sleeping cat.
.
Sunday, August 27th
We were up way too early. But first of all I wanted to check out of the hotel this morning already to save the money for one more day of rent, and secondly aNarki had to take his slightly corrected papers to his professor.
So we carried my belongings over to aNarki's parents' place and dumped them in a corner of the living room.
Then we took a taxi to the professor's hotel to drop off the papers. Security there was rather tight (including a metal detector at the entrance), as the Days Inn - quite apart from being a way more high class establishment than my apartment hotel - had been one of the three hotels that had been hit by almost simultaneous suicide bombings in November 2005.
That done, we met up with the V-Knight and headed out to Downtown Amman.
They tried out a strange alien weapon on the V-Knight and aNarki, but as soon as we left this particular spot, things got back to normal again…

I still needed a souvenir for the Muffin Man, and I am sure he would have appreciated a pin with Saddam on, but I really did not wish to pay people money for selling them…
We ambled through several streets, browsing stores and looking around.
At one point we passed a ghetto blaster that seemed to be playing some kind of speech. A couple of streets further on we walked into Muslim Brotherhood territory. Innocent tourist me didn't really notice anything, but both aNarki and the V-Knight ambled nonchalantly on while announcing that we should better leave. Now. (Not only were they accompanying a half naked tourist lady, they themselves were looking way too western as well…) We tried to do that, and even succeeded, although the side "street" aNarki dragged us into was more of a dark, murky trap than the street.


We passed the ghetto blaster again and the guys informed me that the voice emanating from it was, basically, preaching jihad. Nice…. neighbourhood.
We found more friendly streets lined with DVD stores. I say DVD stores. What they were selling was pirated copies of movies. For 1 to 2 JD, which is really rather cheap of course.
In one store I really should have taken a picture or even made a small movie. Of the special… customer… browsing one of the shelves.
This big cockroach kept walking up and down that one DVD shelf…
We kept staring at it, part in disgust, part wondering if the store owner really didn't see that creature, or if he just pretended that nothing was amiss. The other customers didn't seem to mind/notice either.

Talking about icky things, at one point the V-Knight took off for a bit on some errand of his own while aNarki and me went into a restaurant. I had to powder my nose, but rapidly decided against it after having taken a peek at the facilities… Right. In funny countries (like Turkey, France…) you shouldn't be surprised if you encounter those kind of toilets where you basically hunker down over a hole in the floor. But… the whole room was reeking of excrements, and it wasn't difficult to find the source(s). Brrrr.

It's amazing for how long you can go on without using a toilet, even after you thought you really had to go.
Ohhhhhkay, after the V-Knight had joined us again we walked the streets for a while longer, then decided to head back home again.
It took us quite some time to get a taxi, which the guys attributed to the fact of us being too western for Downtown.
We did manage in the end though.
In the evening aNarki, the V-Knight and me walked through - yes - Fresh Waffles Street to the Irish Pub.
I hope the guys derived some pleasure from watching me drink Tequila Sunrise.

Well, I sure enjoyed it.
Hm, I also ordered something to eat. What was it? Something with pasta? I so totally forgot. I do recall though that someone put cheese on it despite our little talk about veganism, so unfortunately they had to fix it twice.
Ok, so this is the moment you have been waiting for since "Wednesday", eh?
This day I took some pictures in the Ladies'.
A two-seated bench in the style of the above is standing in front of the pub by the way…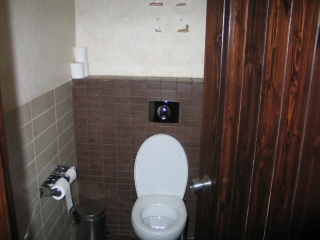 Toilet with double roll facility for the user in double need?
Or maybe one roll was for number ones and the other for number twos…..?
Anyway, here's one last picture from the pub, showing my companions and me:
Well. Then we went back to aNarki's parents' place and killed the little time that was left until aNarki's cousin arrived to take me back to the airport.


As check-in happens right at the smallish entry hall at this airport we had to rather hastily say good-bye, while trying to stay out of the way of fellow travellers.
aNarki must have been meditating very long that day, as he not only returned my good-bye hug but courageously insisted to "do it right" and make it a double hug. Brave man.

I gathered my belongings and went through the security checkpoint. My cabin luggage got an extra search as my electronics collection (plastic bag with charging cable for cell phone, charging cable for camera, second cell phone, charger for rechargeable batteries, rechargeable batteries) must have looked suspicious. After checking in my luggage and getting some mysterious tag for my cabin luggage I rode up the elevator to the gates. As aNarki had told me I had a good view of the entry from the elevator and could give him and his cousin one final wave.
At the cabin luggage checkpoint above they waved me out for a manual check. I fished out the plastic bag, opened the knots I had tied to keep it shut and handed the plastic baggie and the open backpack to the man doing the search. He hardly glanced at my electronics collection, but went through my other stuff, including the little zip pocket inside the backpack.
Safety-pins, hair ribbons and Jordanian coins seemed to be familiar to him, but my tampons had to be inspected closely. Can it be that this dude seriously didn't know what they were? Or did he think he could embarrass me by taking them out and giving them an intense stare? We shall never know, as I didn't bother to ask.
After a long and boring wait for the designated gate to be opened we got shooed over to another gate.
Finally, on board the plane, the people beside me were trying to argue with the on board personel. Unfortunately the passengers didn't speak English, only a bit of German, while the personel belonged to the rare few Dutchies who seriously don't speak German. I interceded and explained to them that the family had been under the impression that the seats they had booked would all be in one row. Well, they were, but with the aisle seperating one of them from the rest. That explained, I was of course the ideal "victim" and got asked if I was willing to switch places with the isolated family member. I wasn't, really, as that meant switching a window seat for an aisle seat, but I agreed anyway.
Which confused the guy bringing the food later on a bit, as my meal was reserved for the other seat number of course.
Talking about the food… that was nothing compared to that on the trip to Amman. Some boring veggies, a dreadful and tasteless rice cake… brrr.