Deprecated
: preg_replace(): The /e modifier is deprecated, use preg_replace_callback instead in
/www/htdocs/w0081e40/wp-includes/formatting.php
on line
75
Ok, here we go, you nosy person.
Hope everybody else ain't gonna be bored.
So, we got ourselves this greenhouse.
And now we gotta dig down to be able to build up.
Well, I say "we". The sad truth is that I have been doing most of the digging.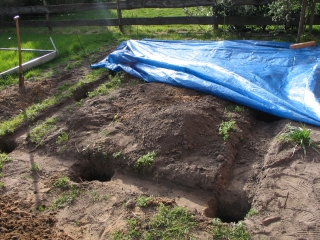 Ok, David, the above shows the spot where the greenhouse will be standing - hopefully - soonish and where we had already been digging to the discussed depth of around 40cm (in some cases even less…). They had been predicting rain, so I had covered the holes and yesterday only uncovered those I intended to dig to their complete depth of a good 80cm. In the end I finished 6 of 'em.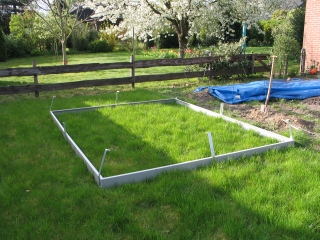 And this is the frame that's gonna get fixed onto/into the foundation blocks.
…. The other way around of course….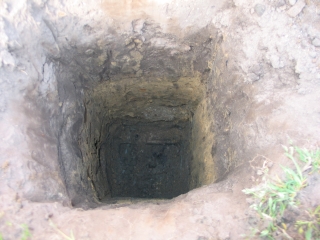 Last, but not least - one finished hole. If you look closely, you will notice a bit of stone at the bottom of the yellowish line of soil. It's sort of in the center of the picture. Oh, the joys of digging!!

I guess this could have been written in a more fascinating way, but
1. this topic doesn't really fascinate me that much, and
2. I am rather bluh in the head (and in my back), especially after having finished with the holes today after work.
Yay.