Sunday, February 25th, 2007
Deprecated
: preg_replace(): The /e modifier is deprecated, use preg_replace_callback instead in
/www/htdocs/w0081e40/wp-includes/formatting.php
on line
75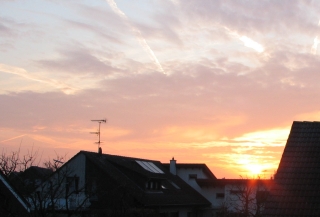 Ok, just in case I am attracting new readers here (*giggles* Well, a girl can dream, eh?) I'll recap what I've been mentioning in my last post over at Blogger.
Well, actually, I'll make this a longer story, I guess.
For quite some time now, people have been trying to invite me to get a Gmail account. I've always declined for the simple reason that people way more geeky than me said that these people do have a very valid point.
Well, yes, in a way, you're selling most of your privacy rights the moment you go online, and the more you use the net, the more this is true. But I think this is the very reason why we should try to preserve what privacy and rights we have. I simply object to Google's nosiness. I regularly delete my Google search cookies. And I will continue to decline Gmail invites.
And then Blogger gets eaten by Google. At first I was even willing to bow to the inevitable with time. I didn't really read the detailed information on the "upgrade" then, so I wasn't even aware that a Gmail account would be part of the "upgrade". Anyway, the new Blogger was suffering major flaws, so I figured I'd better wait until they fixed that before upgrading. The test version became the real thing, and still Google Blogger blogs had downtimes at least twice a week. Sometimes it was impossible to comment on some of those blogs for several days, and not only for old Blogger users but at least in one case I am aware of for the blog owner himself!
Then came the day when I wanted to log in to my blog and was redirected to a page that required me to update to Google Blogger and create a Gmail account before proceeding. After some time I figured out that deleting all of my Blogger, Google Blogger and Google cookies enabled me to log in to old Blogger again. As I had been helping someone out with his Google Blogger blog, I thought Blogger might have become confused by the cookies set at that time, and that the problem was now solved.
But it turned out that it hadn't. More and more often I had to go through the tedious "delete all Google/Blogger related cookies" with an added "clear history" routine to get access to my blog without upgrading. Also, I very often was unable to comment on Google Blogger blogs. The above mentioned routine works for that problem as well….. Most of the time.
I don't like getting forced to do things, so I very quickly grew sick of this and decided to move my blog. WordPress seemed the obvious solution. I decided to move my blog to wordpress.com before realizing that this was not quite the right thing for me either, but to that later.
I was very relieved that I was still using old Blogger when working my way through WordPress' "import" function. I see that has changed by now (although you have to get authorization from Google first…), but at the time WP could only import old Blogger blogs. OK:
Step 1: Log in to your Blogger account and make safety copies. Am I allowed to laugh?
Step 2: Log out of your Blogger account. Well, I didn't even manage to log in this time, so that's ok, yes?
Step 3: Log in here with your Blogger name and password. "Sorry, you cannot be logged in, please try again." Oh, bugger…
Eventually I found out that clearing my history, deleting all Google/Blogger cookies and disabling cookies before embarking on step 3 did the trick.
Unfortunately wordpress.com only offers very limited space for its blogs and has this weird aversion to javascript. So here I am, using wordpress.org software on my very own rented server space!

Now I only needed to change the link to the new blog that I had left over at my Blogger blog. Right. Last Wednesday and Thursday I repeatedly deleted the evil cookies, cleared my history, even including restarting my computer…. to no avail. I kept getting redirected to the "upgrade or die" page.
Still, Google Google Blogger makes it sound as if the "upgrade" is just an option that Blogger users have, and not mandatory at all.
On Friday morning I was very surprised when I was able to log in and edit my post and the link. Well, some of you have already found it.

After this lengthy - and likely rather boring - explanation I officially bid you welcome to Melantrys' new playground!

I hope you'll have fun.
P.S.: It would be really cool if some of my faithful "fans" here who only allow registered Google/Blogger users to comment on their blogs might consider trying to allow "others" as well. For one thing, this would allow me to bid my Blogger account a final good-bye, and secondly, I am rather sure that sooner or later I will not be able to comment using my old Blogger account anymore.